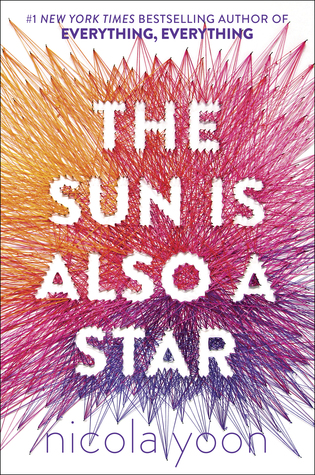 The Sun Is Also a Star
by Nicola Yoon
Published: November 1, 2016
Natasha: I'm a girl who believes in science and facts. Not fate. Not destiny. Or dreams that will never come true. I'm definitely not the kind of girl who meets a cute boy on a crowded New York City street and falls in love with him. Not when my family is twelve hours away from being deported to Jamaica. Falling in love with him won't be my story.
Daniel: I've always been the good son, the good student, living up to my parents' high expectations. Never the poet. Or the dreamer. But when I see her, I forget about all that. Something about Natasha makes me think that fate has something much more extraordinary in store—for both of us.
The Universe: Every moment in our lives has brought us to this single moment. A million futures lie before us. Which one will come true?
The reason why I've put off writing this review for a long time is: I am so conflicted. I don't really know what I feel towards this book.
The Sun Is Also a Star
was one of my most anticipated read this 2016. The idea of love at first sight between a realist and a dreamer sounds very intriguing. It's basically like,
"You can break everything down to chemicals but you can't explain a love like ours."
That was my first thought when I heard what this book is about.
When I started
The Sun Is Also a Star
I was enjoying it but... when I put it down for the day I couldn't make myself impulsively pick it up again. I started reading other books instead. More than a month later and I finally got myself to continue reading it. It was a pleasant reading experience in a way that it's easy to read, and you just keep reading it because you could fly through it in less that a day. I could've finished the whole book in one sitting.
I am not a fan of insta-love (not usually), nor am I a romantic, but I do believe in attraction at first sight and, yes, so maybe it's possible to fall in love with a person in just one day - I just haven't proved it myself. My problem with this is… I didn't feel the attraction, the chemistry, between Daniel and Natasha. I can be fine with insta-love in books. Isn't this why we love fiction? To make us readers believe for a moment that anything is possible? But I wan't convinced. Sometimes I found the writing a bit stilted. I think the factors for a great story were there but it just wasn't executed very well. I love the diversity, the glimpse of being an immigrant and the hardships that a person, a family, has to go through to fit into a community. The book is mainly told in Daniel and Natasha's perspective but there's also a lot of others mixed in. I liked the little facts that I learned in some chapters but I couldn't really see how it all makes up a whole - the connection not seamless. I feel bad but I wasn't emotionally attached to anything in here. Even Daniel and Natasha's character are bland :(
I think my sister really liked it, though.
She
was the one who did devour this book in one sitting. Despite my disappointment, I am still going to read
Everything, Everything
. It just sounds so intriguing for me not to pick it up (eventually). Who knows, I might end up enjoying it more than
The Sun Is Also A Star
.
*A copy of this book was sent by the publisher for review.