New Book Releases this December 2016
*cover image links to Goodreads*
The Odds of Loving Grover Cleveland
by Rebekah Crane
Published: December 1, 2016
The Book Depository
Amazon
_____________

According to sixteen-year-old Zander Osborne, nowhere is an actual place—and she's just fine there. But her parents insist that she get out of her head—and her home state—and attend Camp Padua, a summer camp for at-risk teens.

Zander does not fit in—or so she thinks. She has only one word for her fellow campers: crazy. In fact, the whole camp population exists somewhere between disaster and diagnosis. There's her cabinmate Cassie, a self-described manic-depressive-bipolar-anorexic. Grover Cleveland (yes, like the president), a cute but confrontational boy who expects to be schizophrenic someday, odds being what they are. And Bek, a charmingly confounding pathological liar.

But amid group "share-apy" sessions and forbidden late-night outings, unlikely friendships form, and as the Michigan summer heats up, the four teens begin to reveal their tragic secrets. Zander finds herself inextricably drawn to Grover's earnest charms, and she begins to wonder if she could be happy. But first she must come completely unraveled to have any hope of putting herself back together again.
The Heartbreaker Society: The Liar
(The Heartbreaker Society #1)
by Jessica Sorensen
Published: December 2, 2016
Amazon
_____________

One day ago my life was pretty perfect. But a lot can change in a day.

In one day, I went from being Ashlynn Wynterland, one of the most popular girls in school to being the girl who spends lunchtime hiding out in Mr. Chester's classroom and watching Maxon Harter and his science obsessed friends mess around with experiments. All because Queeny Harlington thinks I made out with her crush.

Queeny Harlington is the queen of Fareland high. And up until a day ago, she was my best friend. Now she's my worst enemy who's threatening to tell the entire school all of my secrets.

Being the friendless, social outcast has its downsides. So, when Maxon Harter invites me to hang out with him and his mad scientist friends, I accept his offer, even though they all seem to despise me. Which is fine. Sort of…

The truth is I've always thought Maxon was cute in a weirdly unordinary way. And the more I get to know him, the more I find myself crushing on him badly. Which makes me wonder if I've always been a weirdly unordinary kind of girl, but was too afraid to admit it.

But when Queeny decides to tell everyone my darkest secret of all, I doubt Maxon and my new friends will accept me anymore. I need to stop her, and the only way to do that may be to figure out who made up the rumor that I kissed her crush.
Trophy Wife
by Noelle Adams
Published: December 6, 2016
Amazon
My Review
______________

From the New York Times bestselling author of Fooling Around comes a steamy novel about a pampered princess who's starting over—and the hot guy next door who knows exactly how to melt that tiara right off.

Alison Davies used to just be a trophy wife. Now she's just flat broke. Thanks to an ironclad prenup, she's worse off than she was before the day she rushed down the aisle with a wealthy jerk eight years ago. After her steep fall from riches to rags, Alison refuses to shackle herself to any man who treats her like a possession—no matter how good he looks in a pair of well-worn jeans, or how his muscles ripple while he's carrying her couch.

Underneath his rugged exterior, Rob West is a gentleman. So when he sees his beautiful new neighbor moving in, he's going to help her out no matter how loudly she protests. In fact, Alison's determination to go it alone just strengthens his resolve—and his desire to find out what makes her tick. But after one spur-of-the-moment tumble in the sheets, it's clear that their connection goes way deeper. And that Rob won't be happy until Alison surrenders to the passion they share.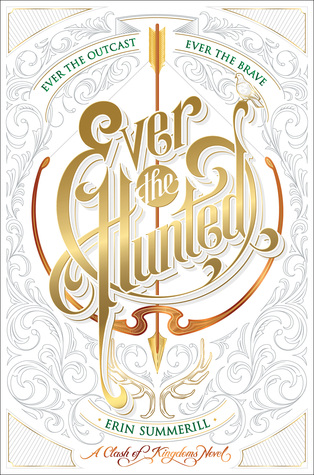 Ever the Hunted
(Clash of Kingdoms #1)
by Erin Summerill
Published: December 27, 2016
The Book Depository
Amazon
________________

Seventeen year-old Britta Flannery is at ease only in the woods with her dagger and bow. She spends her days tracking criminals alongside her father, the legendary bounty hunter for the King of Malam—that is, until her father is murdered. Now outcast and alone and having no rights to her father's land or inheritance, she seeks refuge where she feels most safe: the Ever Woods. When Britta is caught poaching by the royal guard, instead of facing the noose she is offered a deal: her freedom in exchange for her father's killer.

However, it's not so simple.

The alleged killer is none other than Cohen McKay, her father's former apprentice. The only friend she's ever known. The boy she once loved who broke her heart. She must go on a dangerous quest in a world of warring kingdoms, mad kings, and dark magic to find the real killer. But Britta wields more power than she knows. And soon she will learn what has always made her different will make her a daunting and dangerous force.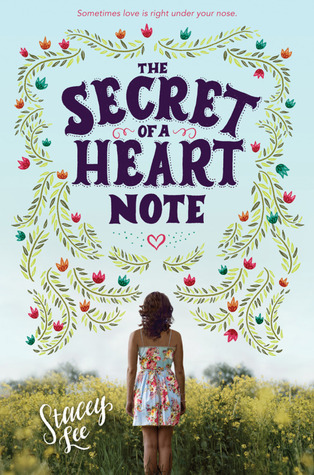 The Secret of a Heart Note
by Stacey Lee
Published: December 27, 2016
The Book Depository
Amazon
_____________

An evocative novel about a teen aroma expert who uses her extrasensitive sense of smell to mix perfumes that help others fall in love while protecting her own heart at all costs

Sometimes love is right under your nose. As one of only two aromateurs left on the planet, sixteen-year-old Mimosa knows what her future holds: a lifetime of weeding, mixing love elixirs, and matchmaking—all while remaining incurably alone. For Mim, the rules are clear: falling in love would render her nose useless, taking away her one great talent. Still, Mimosa doesn't want to spend her life elbow-deep in soil and begonias. She dreams of a normal high school experience with friends, sports practices, debate club, and even a boyfriend. But when she accidentally gives an elixir to the wrong woman and has to rely on the lovesick woman's son, the school soccer star, to help fix the situation, Mim quickly begins to realize that falling in love isn't always a choice you can make.

At once hopeful, funny, and romantic, Stacey Lee's The Secret of a Heart Note is a richly evocative coming-of-age story that gives a fresh perspective on falling in love and finding one's place in the world.