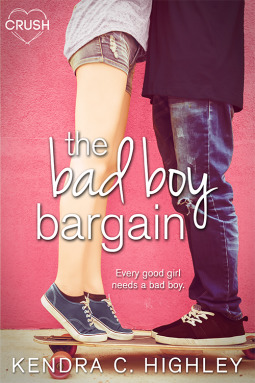 The Bad Boy Bargain
by Kendra C. Highley
Published: November 14, 2016
Baseball player Kyle Sawyer has many labels: bad boy, delinquent, ladies' man, fearless outfielder… Only one of them is actually true. But then sweet ballet dancer Faith Gladwell asks him to help wreck her reputation, and everything goes sideways.
Faith knows a thing or two about love, and what she had with her cheating jerk of an ex wasn't it. When he starts spreading rumors about her being an Ice Queen, Faith decides it's time to let a little bad into her life.
Lucky for her, Kyle Sawyer—dark, dangerous, totally swoonworthy Kyle Sawyer—is landscaping her backyard over Spring Break. Shirtless. And if she can convince him to play along, "dating" Kyle will silence the rumors.
But Faith's plan threatens to expose Sawyer's biggest secret of all…and that's a risk he's not willing to take.
I've read many YA contemporaries but I admit that I don't like a lot of them. Contemporaries are not my most favorite genre. A few months back, I read Kendra Highley's book,
Finding Perfect
– a YA contemporary that I really, really liked, so of course I was going to read her new book, The Bad Boy Bargain. I have a soft spot for "bad boys" in books, if you don't know, and Kyle Sawyer is…
kind of
one.
Kyle Sawyer is the type of guy you don't often see in YA. He hides behind the bad boy persona to deal with the bullies but in a way that doesn't also turn him into one. People assume things with the way he keeps to himself, the way he carries himself, the rumors, and the lies, but it's all just talk. What I see is this really admirable guy who just wants to be himself and survive the day without the bullies who make fun and hurt him for either his shortcomings or his accomplishments. It was meeting Faith that made him braver to deal with his fear and admit to himself that it's perfectly okay to be yourself. This right here is what sets this book apart from those contemporaries that I usually think are the same ol' same ol'. Despite the cliché circumstances and a few cheesy moments, I like that the story revolves around something that's actually meaningful and relatable to teens, and was properly resolved. I also liked the involvement of the parentals. Most parents in books are almost always MIA, neglectful, couldn't care less, or shown in a bad light. Those really bother me sometimes because while I know that parents like these exist, it also does not mean that all parents are like that. Kyle's dad isn't around most of the time because of work but he isn't bad. He also has his granddad – his VERY cool granddad – who really cares and obviously loves him. Faith's parents are also protective as expected but humble and laid-back. I admire Kyle's hardworking character. It's very motivating, to be honest. His dyslexia may mean that he doesn't do well in school but he makes sure to ask his granddad for help in doing his homework, and he does very well in other fields. He's a nice, talented, and resourceful kid, and I'm pretty sure I love him. Ooh, I also enjoyed the ballet parts.
My sister really enjoyed this book, too – I can attest to that. That's right; she's read it, too. In fact, she read it faster than I did. She wouldn't let go of my phone so she can read the book in my Kindle app. She was giggling like crazy. She said that it was really fun and like watching a rom-com. Well, I have to agree.
The Bad Boy Bargain
is a super fun read I would recommend to anyone who would listen. Look this one up if you're looking for something to devour in one sitting.
*An advanced reading copy of the book was sent by the publisher for review.