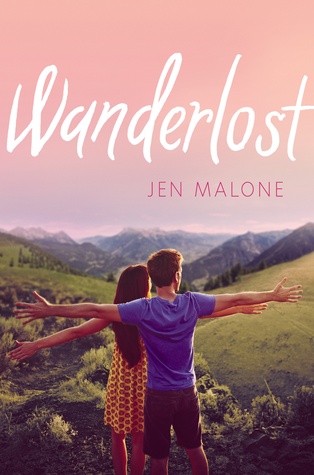 Wanderlost
by Jen Malone
Published: May 31, 2016
Not all those who wander are lost, but Aubree Sadler most definitely is on this novel's whirlwind trip through Europe.
Aubree can't think of a better place to be than in perfectly boring Ohio, and she's ready for a relaxing summer. But when her older sister, Elizabeth, gets into real trouble, Aubree is talked into taking over Elizabeth's summer job, leading a group of senior citizens on a bus tour through Europe.
Aubree doesn't even make it to the first stop in Amsterdam before their perfect plan unravels, leaving her with no phone, no carefully prepared binder full of helpful facts, and an unexpected guest: the tour company owner's son, Sam. Considering she's pretending to be Elizabeth, she absolutely shouldn't fall for him, but she can't help it, especially with the most romantic European cities as the backdrop for their love story.
But her relationship with Sam is threatening to ruin her relationship with her sister, and she feels like she's letting both of them down. Aubree knows this trip may show her who she really is—she just hopes she likes where she ends up.
My face hurt from so much smiling. Well, it wasn't all fun because there are some serious conflicts in the story but...
*sigh*
Wanderlost
is the summer I never had (this year). Reading this book didn't feel like I was locked in my room while it was raining heavily outside. It was a really fun read and it made me miss traveling.
At seventeen, Aubree is the type of girl who is pretty much content with wherever she is. She isn't looking for something more than what she has, no plans of going away for college or moving out of her parent's house. She's not at all curious of whatever is out there. She likes being the baby sister, loves her mother's attention. I learned that she isn't a very adventurous girl in practically every aspect of her life. In other words, the complete opposite of her older sister. When her sister uncharacteristically got on the bad side of the law, Aubree is forced to take over her sister's summer job as a tour guide thinking that it will bridge a gap between the two of them.
It obviously wasn't an easy task for Aubree who has never traveled before and is now doing it alone with a bunch of senior citizens on the other side of the world. The poor girl's a mess even before the trip started. But as soon as Aubree got into her first mishap, I knew then she's going to be fine. She's not afraid to ask and accept help and I admire that about her. She's actually very resourceful. And when she isn't worrying too much, she is such a fun and genuine girl with a bright personality. She's a ray of sunshine. There is a lot of misunderstanding between her and her sister, and there's the fact that she's crushing on a guy who doesn't even know her real name. Can't blame her, really. Sam is friggin' adorable. I couldn't stop the giggles at Sam's antics. I'm glad that in the end she was able to communicate better with everyone, especially her sister, and made friends with her tour buddies.
Wanderlost
will surely lift up every reader's mood but the best thing, for me, was how Aubree developed as a character and in the process discovered more about herself. She's a wonderful kid, she just wasn't exposed enough to realize it. This book is proof of that.
*A review copy of this book was provided by the publisher.