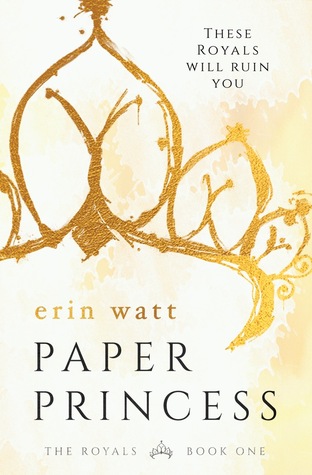 Paper Princess
(The Royals #1)
by Erin Watt
Published: April 4, 2016
From strip clubs and truck stops to southern coast mansions and prep schools, one girl tries to stay true to herself.
These Royals will ruin you…
Ella Harper is a survivor—a pragmatic optimist. She's spent her whole life moving from town to town with her flighty mother, struggling to make ends meet and believing that someday she'll climb out of the gutter. After her mother's death, Ella is truly alone.
Until Callum Royal appears, plucking Ella out of poverty and tossing her into his posh mansion among his five sons who all hate her. Each Royal boy is more magnetic than the last, but none as captivating as Reed Royal, the boy who is determined to send her back to the slums she came from.
Reed doesn't want her. He says she doesn't belong with the Royals.
He might be right.
Wealth. Excess. Deception. It's like nothing Ella has ever experienced, and if she's going to survive her time in the Royal palace, she'll need to learn to issue her own Royal decrees.
A
reviewer I follow on Goodreads
said that
Paper Princess
has a Meteor Garden/Boys Over Flowers vibe and FYI, I was once obsessed with those shows. And then I learned that it was co-authored by
Elle Kennedy
who wrote
The Deal
(which I LOVED), and
Jen Frederick
whose works I also liked. So that's basically a big, fat YES from me.
This book is most definitely NA, let's just get that out of the way. Ella Harper is living a hard life and dealing with harsh realities at such a young age when she is suddenly thrust into a world where she definitely does not belong, and forced to be a family with five spoiled boys who are also dealing with harsh realities of their own.
Paper Princess
is about the messed up life story of these teenagers. Nevertheless, it's a very enjoyable and fast read.
I have conflicted feelings toward the Royals. Ya know those villains you can't help but love? Well these Royals are freakin' a-holes. Sometimes I pitied them but most of the time I HATED them. Aw gawd, I hate bullying. How can some people not see how not fun it is? I admire Ella for being able to stand up for herself but the emotional assault is just too much. She's strong but that doesn't mean she isn't hurting. Are people really this cruel? I don't like to think so but let's face it: bullies exist. This girl has been through too much and her character is equal parts hardcore and vulnerable which I really liked about her.
Of all the Royals, Easton is my man. He grew on me. You wont know them 100% in this book but it's obvious early on that something big is going on and I can't wait to find out what that is. I mean, how can I not, with the way it ended?! It's a cruel, cruel ending and I am dying to read the sequel.
*A copy of this book was provided for review.