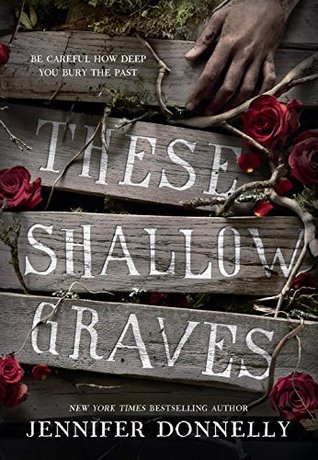 These Shallow Graves
by Jennifer Donnelly
Published: October 27, 2015
Jo Montfort is beautiful and rich, and soon—like all the girls in her class—she'll graduate from finishing school and be married off to a wealthy bachelor. Which is the last thing she wants. Jo secretly dreams of becoming a writer—a newspaper reporter like the trailblazing Nellie Bly.
Wild aspirations aside, Jo's life seems perfect until tragedy strikes: her father is found dead. Charles Montfort accidentally shot himself while cleaning his revolver. One of New York City's wealthiest men, he owned a newspaper and was partner in a massive shipping firm, and Jo knows he was far too smart to clean a loaded gun.
The more Jo uncovers about her father's death, the more her suspicions grow. There are too many secrets. And they all seem to be buried in plain sight. Then she meets Eddie—a young, brash, infuriatingly handsome reporter at her father's newspaper—and it becomes all too clear how much she stands to lose if she keeps searching for the truth. Only now it might be too late to stop.
The past never stays buried forever. Life is dirtier than Jo Montfort could ever have imagined, and the truth is the dirtiest part of all.
"Don't let the darkness that's been visited upon this family pull you in so deeply, you cannot get out. Turn back from it, darling Jo…, he'd warned her. He didn't seem to understand that turning your back on the darkness didn't mean the darkness would turn its back on you."
Just as I predicted, I loved this book. If you don't know, Jennifer Donnelly's
Revolution
is one of my most favorite books ever. Before that, I've never read much of historical fiction and I wasn't even interested in reading
Revolution
at first. Let's just say that once I finished it, I became a liiiittle bit obsessed with the genre. Now all of her books are in my to-be-read pile. With her writing and the obvious amount of research and work she puts into her books to make it as amazing as they are, I doubt there is anything by her I wouldn't like.
These Shallow Graves
is a murder mystery set in the 1890s. Josephine Montfort is a girl born and raised in high society who longs for freedom but is bound by her upbringing and role as a woman. She is such a strong character especially for one who grew up with everyone's eyes and ears always trained on her and her family. I love her, I love Eddie, and Fay and Oscar. She got to meet these people from the opposite side of her world that made her see the harsh truths behind money, fame and title -- all the things that she didn't learn in her sheltered life.
Despite the long pauses I took in between reading this it was so easy to get sucked back into it. I would have finished it in no time if I didn't have other things to do. It's a very compelling read and I loved pretty much everything about it. I highly recommend this book and I advise that you shouldn't skip the author's note once you've reached the epilogue. You'll see how this book is so much more than just a regular story told to entertain you.
*A copy of the book was sent by the publisher for review.