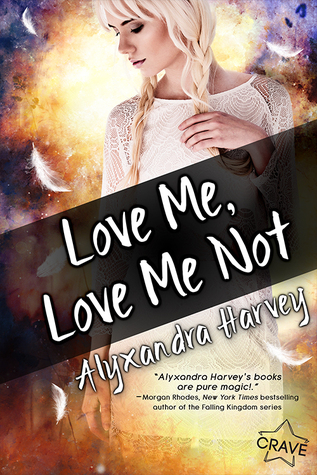 Love Me, Love Me Not
by Alyxandra Harvey
Published: February 22, 2016
Dating isn't easy when you're in the middle of a blood feud.
Anastasia Vila's family can turn into swans, but just once she'd like them to turn into responsible adults.
After hundreds of years, they still cling to the blood feud with the Renard family. No one remembers how it started in the first place—but foxes and swans just don't get along.
Vilas can only transform into their swan shape after they have fallen in love for the first time, but between balancing schoolwork, family obligations, and the escalating blood feud, Ana's got no time for love. The only thing keeping her sane is her best friend, Pierce Kent.
But when Pierce kisses Ana, everything changes.
Is what Pierce feels for her real, or a byproduct of her magic? Can she risk everything for her best friend? And when the family feud spirals out of control, Ana must stop the fight before it takes away everything she loves.
Including, maybe...Pierce.
This Entangled Teen Crave book contains language, violence, and lots of kissing. Warning: it might induce strong feelings of undeniable attraction for your best friend.
Swans – that's what made this book so intriguing to me. I don't remember ever reading a book about swans before. When I heard about
Love Me, Love Me Not
, I was sold.
The story involves feuding families -- the swans and foxes. The Vilas, the women in Ana's family, can only transform into swans after they fall in love. Of course, being a swan also comes with other magical abilities... by singing. Under different circumstances, that may be normal. But when you're in the middle of a fight (and that happens a lot here)... I don't know... it's definitely weird. And kind of ridiculous to have a character singing at the top of her lungs in the middle of a bloody scene.
What I liked in this book: Ana and Pierce. They are an awesome pair and I like them. They're bestfriends and Pierce has been in love with Ana forever but Ana thinks it's just the magic talking. So poor Pierce can do nothing but watch while Ana falls in love with someone else and try to be happy for her. Despite that, they still look out for each other.
"You don't have to love me back, Ana. But you can't keep telling me I don't know my own feelings."
Swoon.
What I didn't like: I don't understand the feud, either. Leaving out the history, because nobody knows anything about it anyway, all the fight that happens in the book seems to have come from nowhere. There were too many characters putting in their thoughts that doesn't really stand out to me, probably because things happen too fast to dwell on it.
This wan an entertaining and fresh read, all in all. Short enough for me not to lose my interest but it definitely has a lot of potential to be better.
*An ARC was provided by the publisher and NetGalley for review purposes.