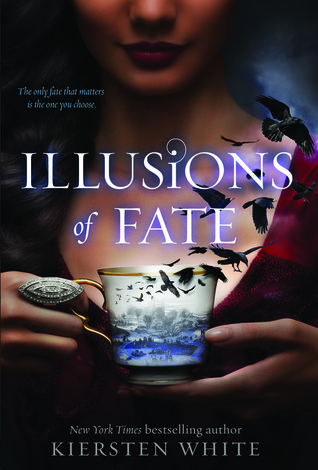 Illusions of Fate
by Kiersten White
Published: September 9, 2014
Downton Abbey meets Cassandra Clare in this lush, romantic fantasy from New York Times bestselling author Kiersten White.
"I did my best to keep you from crossing paths with this world. And I shall do my best to protect you now that you have."
Jessamin has been an outcast since she moved from her island home of Melei to the dreary country of Albion. Everything changes when she meets Finn, a gorgeous, enigmatic young lord who introduces her to the secret world of Albion's nobility, a world that has everything Jessamin doesn't—power, money, status…and magic. But Finn has secrets of his own, dangerous secrets that the vicious Lord Downpike will do anything to possess. Unless Jessamin, armed only with her wits and her determination, can stop him.
Kiersten White captured readers' hearts with her New York Times bestselling Paranormalcy trilogy and its effortless mix of magic and real-world teenage humor. She returns to that winning combination of wit, charm, and enchantment in Illusions of Fate, a sparkling and romantic new novel perfect for fans of Cassandra Clare, The Madman's Daughter, and Libba Bray.
When it comes to Kiersten White books, I always hear mixed things. I read
Paranormalcy
a really long time (try more than four years) ago and liked it. I LOVED her
Mind Games
duology even though not a lot of people did.
Illusions of Fate
is the same. Some of my friends loved it, some did not. Me? I ended up really, really enjoying it.
I loved Jessamine. She's very headstrong. She escaped her island home and went to Albion to study, where she is surrounded by people who look down on her kind. But does she give up? No. They won't let her study math because she's a girl so Jessamine is all like
"Fine. Whatever. I'm studying it on my own."
I loved Finn and Jessamine. To be honest, I want Finn in my life. I'm so giddy whenever they're together. They make me smile! Can't get enough of them, really. And I adore Eleanor. At first I was hesitant about her character. I was afraid something fishy would happen but Eleanor turned out to be the best friend you could ever hope for.
Illusions of Fate
is an addicting and fast read. The only reason it took me a while to finish was because I had a lot of work to finish before 2015 ended. There were times where I got quite lost when it came to the magic system but it was still very interesting. There wasn't a great deal of world-building but that may be because, in the story, most of the history about the magic is lost and no one dares dig for it.
*A copy was provided by the publisher for review purposes.