New Book Releases this January 2016
*cover image links to Goodreads*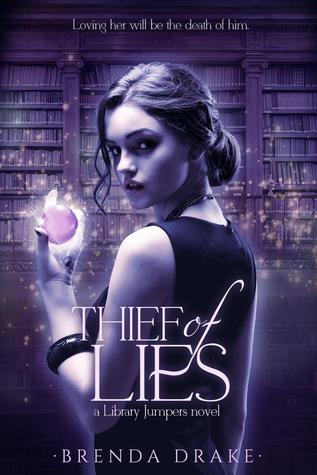 Thief of Lies
(Library Jumpers #1)
by Brenda Drake
Published: January 5, 2015
The Book Depository
Amazon
______________

Gia Kearns would rather fight with boys than kiss them. That is, until Arik, a leather clad hottie in the Boston Athenaeum, suddenly disappears. While examining the book of world libraries he abandoned, Gia unwittingly speaks the key that sucks her and her friends into a photograph and transports them into a Paris library, where Arik and his Sentinels—magical knights charged with protecting humans from the creatures traveling across the gateway books—rescue them from a demonic hound.

Jumping into some of the world's most beautiful libraries would be a dream come true for Gia, if she weren't busy resisting her heart or dodging an exiled wizard seeking revenge on both the Mystik and human worlds. Add a French flirt obsessed with Arik and a fling with a young wizard, and Gia must choose between her heart and her head, between Arik's world and her own, before both are destroyed.
The Impostor Queen
(The Impostor Queen #1)
by Sarah Fine
Published: January 5, 2015
The Book Depository
Amazon
_____________

Sixteen-year-old Elli was a small child when the Elders of Kupari chose her to succeed the Valtia, the queen who wields infinitely powerful ice and fire magic. Since then, Elli has lived in the temple, surrounded by luxury and tutored by magical priests, as she prepares for the day when the Valtia perishes and the magic finds a new home in her. Elli is destined to be the most powerful Valtia to ever rule.

But when the queen dies defending the kingdom from invading warriors, the magic doesn't enter Elli. It's nowhere to be found.

Disgraced, Elli flees to the outlands, the home of banished criminals—some who would love to see the temple burn with all its priests inside. As she finds her footing in this new world, Elli uncovers devastating new information about the Kupari magic, those who wield it, and the prophecy that foretold her destiny. Torn between the love she has for her people and her growing loyalty to the banished, Elli struggles to understand the true role she was meant to play. But as war looms, she must align with the right side—before the kingdom and its magic are completely destroyed.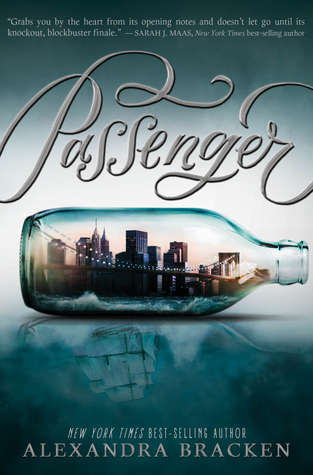 Passenger
(Passenger #1)
by Alexandra Bracken
Published: January 5, 2015
The Book Depository
Amazon
____________

passage, n.
i. A brief section of music composed of a series of notes and flourishes.
ii. A journey by water; a voyage.
iii. The transition from one place to another, across space and time.

In one devastating night, violin prodigy Etta Spencer loses everything she knows and loves. Thrust into an unfamiliar world by a stranger with a dangerous agenda, Etta is certain of only one thing: she has traveled not just miles but years from home. And she's inherited a legacy she knows nothing about from a family whose existence she's never heard of. Until now.

Nicholas Carter is content with his life at sea, free from the Ironwoods—a powerful family in the colonies—and the servitude he's known at their hands. But with the arrival of an unusual passenger on his ship comes the insistent pull of the past that he can't escape and the family that won't let him go so easily. Now the Ironwoods are searching for a stolen object of untold value, one they believe only Etta, Nicholas' passenger, can find. In order to protect her, he must ensure she brings it back to them— whether she wants to or not.

Together, Etta and Nicholas embark on a perilous journey across centuries and continents, piecing together clues left behind by the traveler who will do anything to keep the object out of the Ironwoods' grasp. But as they get closer to the truth of their search, and the deadly game the Ironwoods are play­ing, treacherous forces threaten to sep­arate Etta not only from Nicholas but from her path home . . . forever.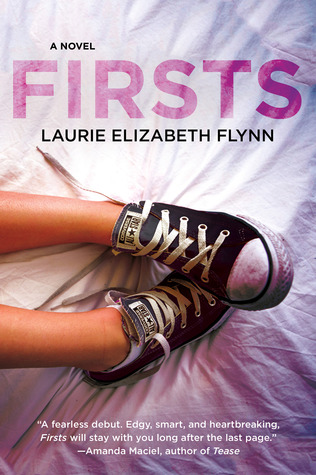 Firsts
by Laurie Elizabeth Flynn
Published: January 5, 2015
Amazon
______________

Seventeen-year-old Mercedes Ayres has an open-door policy when it comes to her bedroom, but only if the guy fulfills a specific criteria: he has to be a virgin. Mercedes lets the boys get their awkward, fumbling first times over with, and all she asks in return is that they give their girlfriends the perfect first time- the kind Mercedes never had herself.

Keeping what goes on in her bedroom a secret has been easy- so far. Her absentee mother isn't home nearly enough to know about Mercedes' extracurricular activities, and her uber-religious best friend, Angela, won't even say the word "sex" until she gets married. But Mercedes doesn't bank on Angela's boyfriend finding out about her services and wanting a turn- or on Zach, who likes her for who she is instead of what she can do in bed.

When Mercedes' perfect system falls apart, she has to find a way to salvage her reputation and figure out where her heart really belongs in the process. Funny, smart, and true-to-life, FIRSTS is a one-of-a-kind young adult novel about growing up.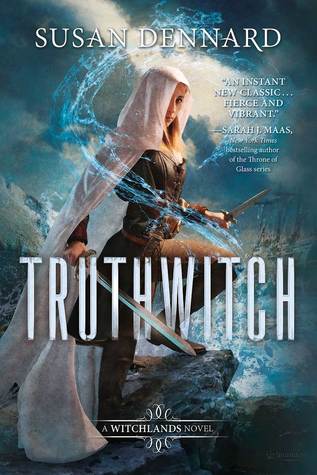 Truthwitch
(The Witchlands #1)
by Susan Dennard
Published: January 5, 2015
The Book Depository
Amazon
_____________

On a continent ruled by three empires, some are born with a "witchery", a magical skill that sets them apart from others.

In the Witchlands, there are almost as many types of magic as there are ways to get in trouble—as two desperate young women know all too well.

Safiya is a Truthwitch, able to discern truth from lie. It's a powerful magic that many would kill to have on their side, especially amongst the nobility to which Safi was born. So Safi must keep her gift hidden, lest she be used as a pawn in the struggle between empires.

Iseult, a Threadwitch, can see the invisible ties that bind and entangle the lives around her—but she cannot see the bonds that touch her own heart. Her unlikely friendship with Safi has taken her from life as an outcast into one of reckless adventure, where she is a cool, wary balance to Safi's hotheaded impulsiveness.

Safi and Iseult just want to be free to live their own lives, but war is coming to the Witchlands. With the help of the cunning Prince Merik (a Windwitch and ship's captain) and the hindrance of a Bloodwitch bent on revenge, the friends must fight emperors, princes, and mercenaries alike, who will stop at nothing to get their hands on a Truthwitch.
Curio
(Curio #1)
by Evangeline Denmark
Published: January 5, 2015
The Book Depository
Amazon
______________

Grey Haward has always detested the Chemists, the magicians-come-scientists who rule her small western town. But she has always followed the rules, taking the potion the Chemists ration out that helps the town's people survive. A potion that Grey suspects she—like her grandfather and father—may not actually need.

By working at her grandfather's repair shop, sorting the small gears and dusting the curio cabinet inside, Grey has tried to stay unnoticed—or as unnoticed as a tall, strong girl can in a town of diminutive, underdeveloped citizens. Then her best friend, Whit, is caught by the Chemists' enforcers after trying to protect Grey one night, and after seeing the extent of his punishment, suddenly taking risks seems the only decision she can make.

But with the risk comes the reality that the Chemists know her family's secret, and the Chemists soon decide to use her for their own purposes. Panicked, Grey retreats to the only safe place she knows—her grandfather's shop. There, however, a larger secret confronts her when her touch unlocks the old curio cabinet in the corner and reveals a world where porcelain and clockwork people are real. There, she could find the key that may save Whit's life and also end the Chemists' dark rule forever.
Once Upon a Kiss
by Robin Palmer
Published: January 5, 2015
The Book Depository
Amazon
_____________

So much has happened since 1986, and Zoe Brenner is about to find out just how much.

From the author of the book that inspired the Disney original movie Geek Charming!

It's 1986 and sixteen-year-old Zoe Brenner's world revolves around Depeche Mode, Judd Nelson, exercise-obsessed parents, and her best friend Jonah. Then one day, in a freak Fun-Dip choking accident, Zoe falls unconscious, and awakes in the year 2016. So much has changed, and Zoe needs Jonah to help her make sense of it all. But in this life, Zoe is the most popular girl in school, and she soon realizes this Zoe doesn't associate with nerds like Jonah. As Zoe juggles new technology, attempts to hide her enthusiasm for poet blouses, and manages to keep her super jock boyfriend at bay, she tries to rekindle her friendship with Jonah and use her popularity for a good cause. Will she ever get back to 1986? And more importantly, does she want to?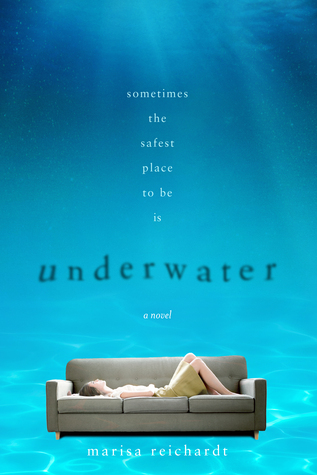 Underwater
by Marisa Reichardt
Published: January 12, 2015
The Book Depository
Amazon
_______________

Morgan didn't mean to do anything wrong that day. Actually, she meant to do something right. But her kind act inadvertently played a role in a deadly tragedy. In order to move on, Morgan must learn to forgive—first someone who did something that might be unforgivable, and then, herself.

But Morgan can't move on. She can't even move beyond the front door of the apartment she shares with her mother and little brother. Morgan feels like she's underwater, unable to surface. Unable to see her friends. Unable to go to school.

When it seems Morgan can't hold her breath any longer, a new boy moves in next door. Evan reminds her of the salty ocean air and the rush she used to get from swimming. He might be just what she needs to help her reconnect with the world outside.

Underwater is a powerful, hopeful debut novel about redemption, recovery, and finding the strength it takes to face your past and move on.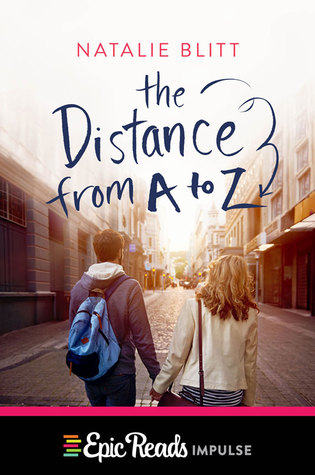 The Distance from A to Z
by Natalie Blitt
Published: January 12, 2015
Amazon
________________

This full-length novel by debut author Natalie Blitt is a pitch-perfect blend of Stephanie Perkins and Miranda Kenneally that proves the age-old adage: opposites attract.

Seventeen-year old Abby has only one goal for her summer: to make sure she is fluent in French—well, that, and to get as far away from baseball and her Cubs-obsessed family as possible. A summer of culture and language, with no sports in sight.

That turns out to be impossible, though, because her French partner is the exact kind of boy she was hoping to avoid. Eight weeks. 120 hours of class. 80 hours of conversation practice with someone who seems to exclusively wear baseball caps and jerseys.

But Zeke in French is a different person than Zeke in English. And Abby can't help but fall for him, hard. As Abby begins to suspect that Zeke is hiding something, she has to decide if bridging the gap between the distance between who she is and who he is, is worth the risk.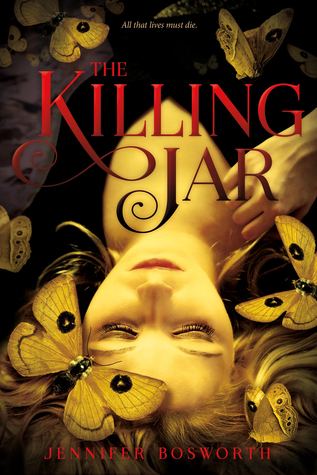 The Killing Jar
by Jennifer Bosworth
Published: January 12, 2015
The Book Depository
Amazon
______________

"I try not to think about it, what I did to that boy."

Seventeen-year-old Kenna Marsden has a secret.

She's haunted by a violent tragedy she can't explain. Kenna's past has kept people—even her own mother—at a distance for years. Just when she finds a friend who loves her and life begins to improve, she's plunged into a new nightmare. Her mom and twin sister are attacked, and the dark powers Kenna has struggled to suppress awaken with a vengeance.

On the heels of the assault, Kenna is exiled to a nearby commune, known as Eclipse, to live with a relative she never knew she had. There, she discovers an extraordinary new way of life as she learns who she really is, and the wonders she's capable of. For the first time, she starts to feel like she belongs somewhere. That her terrible secret makes her beautiful and strong, not dangerous. But the longer she stays at Eclipse, the more she senses there is something malignant lurking underneath it all. And she begins to suspect that her new family has sinister plans for her…
Bookishly Ever After
(Ever After #1)
by Isabel Bandeira
Published: January 12, 2015
The Book Depository
Amazon
______________

In a perfect world, sixteen-year-old Phoebe Martins' life would be a book. Preferably one filled with magic and a hot paranormal love interest. Unfortunately, her life probably wouldn't even qualify for a quiet contemporary.

Everything changes when Phoebe learns that Dev, the hottest guy in the clarinet section, might actually have a crush on her. So, Phoebe turns to the heroines in her favorite books for advice on a personality overhaul. Becoming as awesome as her book characters isn't as easy as it sounds and when another girl nets Dev for herself right from under Phoebe's nose, she's crushed.

Then, to up the suckage, she gets assigned as his co-counselor at a sixth grade camp and has to spend an entire week tied to the hip with the one guy on the planet she wanted to avoid. Can she make it through the potential danger of romantic bonfires and nature walks without Dev figuring out she's still not over him, or will her counseling career end in emotional disaster? Can she ever go back to her happy world of fictional boys after falling for the real thing?