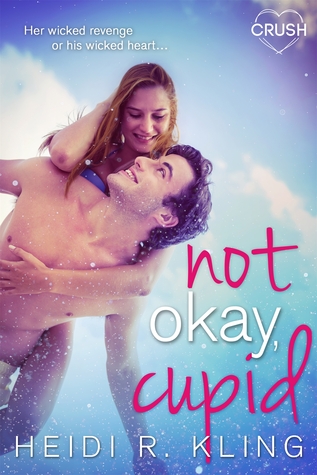 Not Okay Cupid
by Heidi R. Kling
Expected Publication: January 11, 2016
Her wicked revenge, or his wicked heart...
Hazel McCallister loves her life. Perfect grades. Perfect best friend. Perfect boyfriend. Until her perfect boyfriend cheats on her with her perfect best friend. Now Hazel's in free fall—until her best friend's brother, Felix, gives her the perfect idea. Reclaim her power by taking revenge on her cheating ex.
Felix James loves his life. Casual relationships. Loads of surfing. He's as drama-free as they come. But he can't stand by when his sister steals her best friend's boyfriend, and the dude insists it was Hazel's fault. So Felix vows to help turn Hazel into a girl her ex can't resist—so then she can break his heart.
With an alliance in place, Hazel's revenge is all but assured. But with each piece of payback, she feels a stronger attraction to Felix, even though revenge will turn her into a girl Felix could never be with. And soon Hazel has to make an impossible choice: revenge...or Felix, the boy who's stolen her heart.
WARNING! This book contains betrayal, revenge, and that most tempting vice of all, the bad boy you know you can't have.
This book is a light, cute and fast read. I flew through it in no time! It's pretty funny, too. And straight to the point. Hazel catches her bestfriend and boyfriend getting chummy with each other in the school cafeteria, confronts them, and her idiot
'ex-boyfriend'
says something like
'it just happened'
and all that BS, making it out like he only went out with Hazel because of her brain, straight A student that she is. So Hazel is all like,
Boy, you are going down
. Thus the revenge plan. Her accomplice? Her bestfriend's brother, Felix James.
The story is told in both Hazel and Felix's point of view. There really isn't much that distinguishes one POV from the other but I really like Felix's personality. He is so sweet! Too bad her sister is a spoiled brat, not to mention delusional. That girl needs a reality check. I wondered for a long time how Felix can be in the same grade as her sister and for a moment I thought maybe they're twins? Got my answer almost near the end of the book.
Anyway, Hazel and Felix are adorable together! I can tell they're a great pair ever since they were kids. I found their casual conversations really interesting and fun to read. Obviously the revenge plan is sure to develop something between the two but I'm glad that it didn't create too much drama. Overall, I liked
Not Okay Cupid
. Teens are surely going to enjoy this book a lot.
*Thank you NetGalley and Entangled for the ARC of this book.