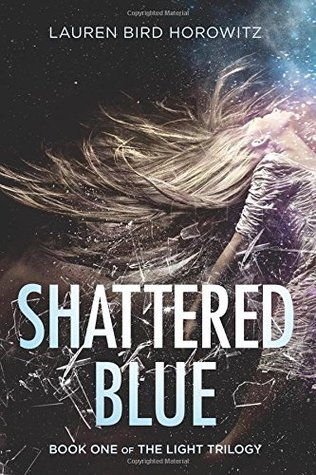 Shattered Blue
(The Light Trilogy #1)
by Lauren Bird Horowitz
For Noa and Callum, being together is dangerous, even deadly. From the start, sixteen-year-old Noa senses that the mysterious transfer student to her Monterey boarding school is different. Callum unnerves and intrigues her, and even as she struggles through family tragedy, she's irresistibly drawn to him. Soon they are bound by his deepest secret: Callum is Fae, banished from another world after a loss hauntingly similar to her own.
But in Noa's world, Callum needs a special human energy, Light, to survive; his body steals it through touch—or a kiss. And Callum's not the only Fae on the hunt. When Callum is taken, Noa must decide: Will she sacrifice everything to save him? Even if it means learning their love may not be what she thought?
Well, that took a while. I was really looking forward to reading
Shattered Blue
especially when I started seeing it on Instagram and hearing a few people rave about it -- plus that really cool cover! This book started out really interesting. I thought it's a sci-fi book at first, but the farther I got into the story, it turned out to be about Faes. It got a bit bland after that.
The world is set in the "human realm" and there is only a very basic explanation of the world and the magic system of Faes. Noa is a human who just recently lost her older sister, Isla, and is dealing with the aftermath. She's having a hard time trying to connect with her parents and it was a very emotional moment when her mother, still grieving her sister's death, found a stash of poems that she thought were Isla's. I really like Noa when it comes to her family especially with Sasha. I love them together.
Then comes Callum who just showed up at her school one day. Callum and Noa are nice people but I feel no chemistry between them. They started going out, weird stuff happens, the secret comes out... This is the part where the story is noticeably slowgoing. Almost halfway into the book and I still couldn't see the bigger picture. I just don't get it. It made me bored and it's sometimes very dramatic and kind of cheesy.
And then Judah entered the picture and it piqued my interest. I was starting to think that Noa, unlike in most books I've read, was really just someone who was caught in between a conflict that's totally unrelated to her. That she wasn't suddenly - and randomly - a girl who actually has the biggest role to play in an effin' mess she has no clue about and I really liked that. Then that freaking plot twist came out of nowhere and it kind of restarted my brain for a bit. I don't know. Instead of finally making me understand the whole thing it, like, gave me clean slate, and after all of it I was just like,
WHAT IS THE TRUTH AND WHAT IS NOT, REALLY?
*A review copy was received from the publisher and NetGalley.