New Book Releases this November 2015
*cover image links to Goodreads*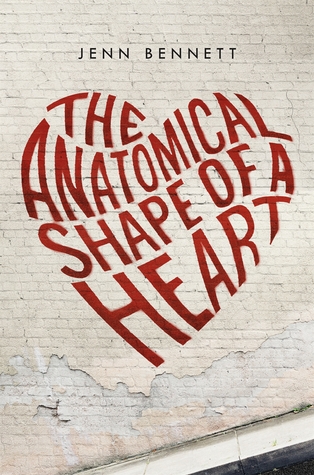 The Anatomical Shape of a Heart
by Jenn Bennett
Published: November 3, 2015
The Book Depository
Amazon
______________

Artist Beatrix Adams knows exactly how she's spending the summer before her senior year. Determined to follow in Leonardo da Vinci's footsteps, she's ready to tackle the one thing that will give her an advantage in a museum-sponsored scholarship contest: drawing actual cadavers. But when she tries to sneak her way into the hospital's Willed Body program and misses the last metro train home, she meets a boy who turns her summer plans upside down.

Jack is charming, wildly attractive . . . and possibly one of San Francisco's most notorious graffiti artists. On midnight buses and city rooftops, Beatrix begins to see who Jack really is—and tries to uncover what he's hiding that leaves him so wounded. But will these secrets come back to haunt him? Or will the skeletons in Beatrix's own family's closet tear them apart?
Sweet Nothing
by Jamie McGuire, Teresa Mummert
Published: November 1, 2015
Amazon
____________

When you think you know what's happening, you're only half way there.

It is enough to break any man: watching what could have been my future slip away before it was ever in my grasp. The possibility of losing someone I loved before she was even mine is something I never would have imagined—certainly nothing I'd ever wish on anyone. I went to her every day and waited. Waited for the impossible, for a sign, for her to look at me ... hoping sinners are granted miracles, too.

Just one glimpse of him was all it took. In the next lane, at a stop light, was the man I would fall in love with and marry. People talk about love that takes time—the kind you fall in to. We were more like a crash and burn. When our lives intertwined, I knew I would never be the same. He was the man I would cherish the rest of my life, who would father my children. In an instant our life together began, and in an instant it would end. The late nights; the excuses; the lies. And in the blink of an eye, it was like we never were.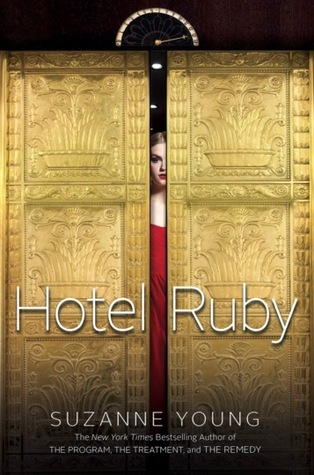 Hotel Ruby
by Suzanne Young
Published: November 3, 2015
The Book Depository
Amazon
_____________

Stay Tonight. Stay Forever.

When Audrey Casella arrives for an unplanned stay at the grand Hotel Ruby, she's grateful for the detour. Just months after their mother's death, Audrey and her brother, Daniel, are on their way to live with their grandmother, dumped on the doorstep of a DNA-matched stranger because their father is drowning in his grief.

Audrey and her family only plan to stay the night, but life in the Ruby can be intoxicating, extending their stay as it provides endless distractions—including handsome guest Elias Lange, who sends Audrey's pulse racing. However, the hotel proves to be as strange as it is beautiful. Nightly fancy affairs in the ballroom are invitation only, and Audrey seems to be the one guest who doesn't have an invite. Instead, she joins the hotel staff on the rooftop, catching whispers about the hotel's dark past.

The more Audrey learns about the new people she's met, the more her curiosity grows. She's torn in different directions—the pull of her past with its overwhelming loss, the promise of a future that holds little joy, and an in-between life in a place that is so much more than it seems…

Welcome to the Ruby.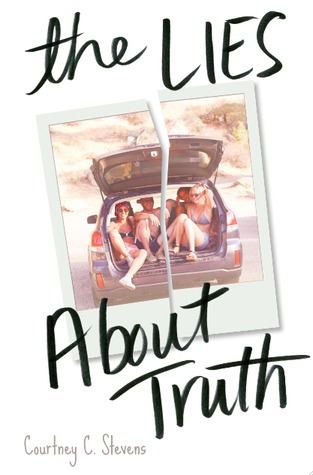 The Lies About Truth
by Courtney C. Stevens
Published: November 3, 2015
The Book Depository
Amazon
_____________

Sadie Kingston, is a girl living in the aftermath. A year after surviving a car accident that killed her friend Trent and left her body and face scarred, she can't move forward. The only person who seems to understand her is Trent's brother, Max.

As Sadie begins to fall for Max, she's unsure if she is truly healed enough to be with him — even if Max is able to look at her scars and not shy away. But when the truth about the accident and subsequent events comes to light, Sadie has to decide if she can embrace the future or if she'll always be trapped in the past.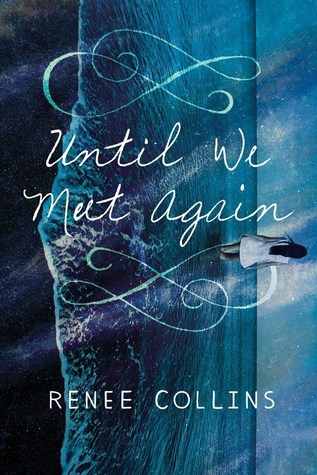 Until We Meet Again
by Renee Collins
Published: November 3, 2015
The Book Depository
Amazon
______________

They exist in two different centuries, but their love defies time.

Cassandra craves drama and adventure, so the last thing she wants is to spend her summer marooned with her mother and stepfather in a snooty Massachusetts shore town. But when a dreamy stranger shows up on their private beach claiming it's his own—and that the year is 1925—she is swept into a mystery a hundred years in the making.

As she searches for answers in the present, Cassandra discovers a truth that puts their growing love—and Lawrence's life—into jeopardy. Desperate to save him, Cassandra must find a way to change history…or risk losing Lawrence forever.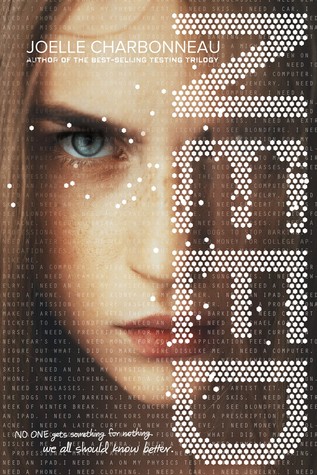 Need
by Joelle Charbonneau
Published: November 3, 2015
The Book Depository
Amazon
_____________

"No one gets something for nothing. We all should know better."

Teenagers at Wisconsin's Nottawa High School are drawn deeper into a social networking site that promises to grant their every need . . . regardless of the consequences. Soon the site turns sinister, with simple pranks escalating to malicious crimes. The body count rises. In this chilling YA thriller, the author of the best-selling Testing trilogy examines not only the dark side of social media, but the dark side of human nature.
Forget Tomorrow
(Forget Tomorrow Series #1)
by Pintip Dunn
Published: November 3, 2015
The Book Depository
Amazon
_____________

Imagine a world where your destiny has already been decided...by your future self.

It's Callie's seventeenth birthday and, like everyone else, she's eagerly awaiting her vision―a memory sent back in time to sculpt each citizen into the person they're meant to be. A world-class swimmer. A renowned scientist.

Or in Callie's case, a criminal.

In her vision, she sees herself murdering her gifted younger sister. Before she can process what it means, Callie is arrested and placed in Limbo―a hellish prison for those destined to break the law. With the help of her childhood crush, Logan, a boy she hasn't spoken to in five years, she escapes.

But on the run from her future, as well as the government, Callie sets in motion a chain of events that she hopes will change her fate. If not, she must figure out how to protect her sister from the biggest threat of all—Callie, herself.
Cam Girl
by Leah Raeder
Published: November 3, 2015
The Book Depository
Amazon
____________

Vada Bergen is broke, the black sheep of her family, and moving a thousand miles away from home for grad school, but she's got the two things she loves most: her art and her best friend—and sometimes more—Ellis Carraway. Ellis and Vada have a friendship so consuming it's hard to tell where one girl ends and the other begins. It's intense. It's a little codependent. And nothing can tear them apart.

Until an accident on an icy winter road changes everything.

Vada is left deeply scarred, both emotionally and physically. Her once-promising art career is cut short. And Ellis pulls away, unwilling to talk about that night. Everything Vada loved is gone.

She's got nothing left to lose.

So when she meets some smooth-talking entrepreneurs who offer to set her up as a cam girl, she can't say no. All Vada has to do is spend a couple hours each night stripping on webcam, and the "tips" come pouring in.

It's just a kinky escape from reality until a client gets serious. "Blue" is mysterious, alluring, and more interested in Vada's life than her body. Online, they chat intimately. Blue helps her heal. And he pays well, but he wants her all to himself. No more cam shows. It's an easy decision: she's starting to fall for him. But the steamier it gets, the more she craves the real man behind the keyboard. So Vada pops the question:

Can we meet IRL?

Blue agrees, on one condition. A condition that brings back a ghost from her past. Now Vada must confront the devastating secrets she's been running from—those of others, and those she's been keeping from herself...
Triple Moon
by Melissa de la Cruz
Published: November 10, 2015
The Book Depository
Amazon
____________

From the New York Times bestselling author of Blue Bloods and Witches of East End

After they cause a terrible accident at their old high school, twin witches Mardi and Molly Overbrook are sent to live with their "Aunt" Ingrid Beauchamp in North Hampton, on Long Island's mist-shrouded East End. Because the twins cannot control their powers, their father begs Ingrid to tame them over the summer, before the White Council exiles the girls to Limbo.

Trouble continues to bubble and boil when the girls meet the younger Gardiner boys, who are just as handsome and sexy as their older kin. But all is not as it seems. As Ingrid helps the girls learn to control their magical impulses, Mardi and Molly have just this summer to figure out how to grow up, how to love, and how to be a family.
Hello?
by Liza M. Wiemer
Published: November 10, 2015
The Book Depository
Amazon
_____________

One HELLO? can change a life. One HELLO? can save a life.

Tricia: A girl struggling to find her way after her beloved grandma's death.
Emerson: A guy who lives his life to fulfill promises, real and hypothetical.
Angie: A girl with secrets she can only express through poetry.
Brenda: An actress and screenplay writer afraid to confront her past.
Brian: A potter who sets aside his life for Tricia, to the detriment of both.

Linked and transformed by one phone call, Hello? weaves together these five Wisconsin teens' stories into a compelling narrative of friendship and family, loss and love, heartbreak and healing, serendipity, and ultimately hope.

Told from all five viewpoints: narration (Tricia), narration (Emerson), free verse poetry (Angie), screenplay format (Brenda), narration and drawings (Brian).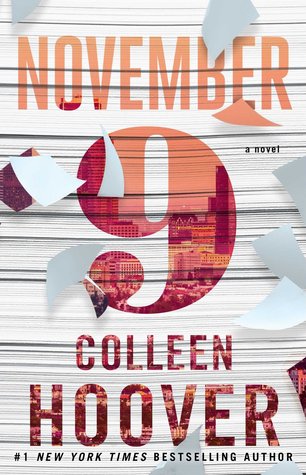 November 9
by Colleen Hoover
Published: November 10, 2015
The Book Depository
Amazon
______________

Beloved #1 New York Times bestselling author Colleen Hoover returns with an unforgettable love story between a writer and his unexpected muse.

Fallon meets Ben, an aspiring novelist, the day of her scheduled cross-country move. Their untimely attraction leads them to spend Fallon's last day in L.A. together, and her eventful life becomes the creative inspiration Ben has always sought for his novel. Over time and amidst the various relationships and tribulations of their own separate lives, they continue to meet on the same date every year. Until one day Fallon becomes unsure if Ben has been telling her the truth or fabricating a perfect reality for the sake of the ultimate plot twist.