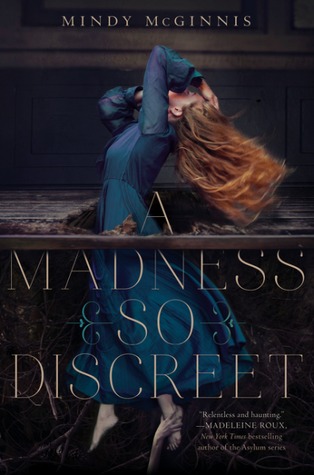 A Madness So Discreet
by Mindy McGinnis
Published: October 6, 2015
Grace Mae knows madness.
She keeps it locked away, along with her voice, trapped deep inside a brilliant mind that cannot forget horrific family secrets. Those secrets, along with the bulge in her belly, land her in a Boston insane asylum.
When her voice returns in a burst of violence, Grace is banished to the dark cellars, where her mind is discovered by a visiting doctor who dabbles in the new study of criminal psychology. With her keen eyes and sharp memory, Grace will make the perfect assistant at crime scenes. Escaping from Boston to the safety of an ethical Ohio asylum, Grace finds friendship and hope, hints of a life she should have had. But gruesome nights bring Grace and the doctor into the circle of a killer who stalks young women. Grace, continuing to operate under the cloak of madness, must hunt a murderer while she confronts the demons in her own past.
In this beautifully twisted historical thriller, Mindy McGinnis, acclaimed author of Not a Drop to Drink and In a Handful of Dust, explores the fine line between sanity and insanity, good and evil—and the madness that exists in all of us.
I started this book not really knowing what it's about, just that it has something to do with mental illness and it has an amazing cover. I read Mindy McGinnis' other book,
Not a Drop to Drink
, over a month ago and it was a very well-written and character-driven story so I know that a mental illness book written by her will be just as gripping.
"What a shock you've had. Taken from that world into this. You used to move about in light and lavender, with the laughter pouring from you, and now it's all blood and darkness, with your throat closed so tight your own breath is choking you."
A Madness So Discreet
tells the story of Grace who is hidden by her family in an asylum because she is pregnant. It started so horrifically and I immediately found myself drawn into the story as I expected. It had a really strong opening and one that really doesn't tell you a lot of where it might take you. Grace's future, without her voice, beaten and treated cruelly in an insane asylum, was a complete mystery to me. Those parts reminded me so much of
Stonehearst Asylum
- the same feel but different story.
Until the chance for Grace to start anew came. Then it suddenly, and so unexpectedly, turned into a detective story. Which is fine. The mental illness aspect still plays a major role in this but the whole murder mystery was pretty meh.
"It's a madness so discreet that it can walk the streets and be applauded in some circles, but it is madness nonetheless."
I still enjoyed reading the book but compared to how the story opened, it was disappointing. I liked the interactions especially of Grace and her new-found friends, their stories are really sad, but I didn't like where the whole thing concluded.
*An ARC was provided by the publisher for this review.