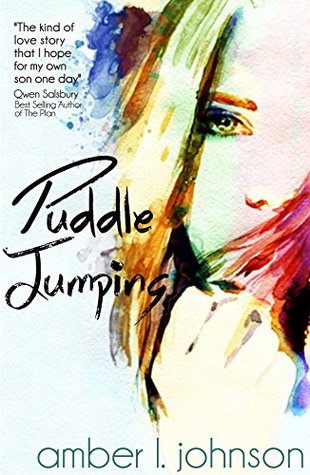 Puddle Jumping
(Puddle Jumping #1)
by Amber L. Johnson
Published: July 29, 2014
When it comes to love there's no such thing as conventional.
Everyone thinks Colton Neely is special.
Lilly Evans just thinks he's fascinating.
Once friends when they were younger, their bond is cut short due to her accident prone nature and they go their separate ways. Years later, they meet again and Lilly learns that there is something special about the boy she once knew, but she has no idea what it all means. And she's not sure if she's ready to find out.
When he walks through the corridor of her school the first day of her senior year, she knows that it's time to get to know the real Colton Neely. The more she learns, the deeper she falls.
Their friendship grows into love, even as Colton does not express it in words. But one decision threatens to break down the world that Lilly has tried so hard to integrate into and she must figure out if the relationship can survive if they are apart.
I don't think I've read that many books that is mainly about mental illness but I am very familiar with books that have, or supposed to have, tragic love stories. Reading the synopsis didn't clue me in on what this may be about and as expected, I was surprised.
Colton Neely is autistic. I don't know much about this condition but like Lilly, I don't care. I love Colton and I love
Puddle Jumping
. The writing isn't lyrical or flawless as one would usually expect in books like this but for me, it's perfect. I loved it in its simplicity. And Lilly's voice is one that would draw you in because of its honesty and conviction. It is written in a way that feels so real, no glossing over of thoughts, just plain truths.
"Who knows? Maybe someday I'll be his and he'll be mine. And space or time won't matter because we were meant to be.

But I won't hold my breath. Life doesn't usually work out the way we hope.

More than anything I want him to be happy. And maybe one day I will be, too."
What I loved most in this book is that it's not romanticized. There wasn't a whole lot of drama, really. It's a story of a girl who falls in love with a boy, the hardships they are both going through and how she's determined to make it through all these even though her heart is breaking. And I would like to emphasize how great the friendship in this book is. Gods, I love it all. A few days after reading this and I'm still thinking about it. And upon learning about an upcoming sequel: