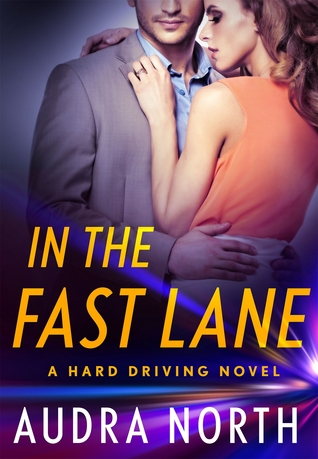 In the Fast Lane
by Audra North
Published: July 14, 2015
LIFE IN THE FAST LANE
Racing cars is in Kerri Hart's blood--literally, since it's the family business. But Hart Racing is in dire financial straits, and as the only female rookie driver, Kerri's sponsorship offers always tend to be of the unzipped racing-suit variety. It's a message she'd rather not sell to her young fans. But how can she afford not to?
LOVE ON OVERDRIVE
Ranger Colt knows how to make a woman's heart race. But when his voice pops up on Kerri's headset--while she's in mid-tailspin--she's in no mood for his charms. Colt Hardware now has a significant stake in the Hart family business, and Kerri has no choice but to work with him. But when her ex-boyfriend makes a very public, tabloid-fodder scene that threatens to tarnish her image, it's Ranger who comes to the rescue. Pretending to be engaged to generate some good publicity seems like a good plan. In fact, it works--all too well. What begins as a ruse is revving up to feel a whole lot like the real thing. Will Kerri and Ranger's fake-lationship take a wild turn. . .and lead them toward the finish?
I'm always up for books with badass female characters, and car racing? Heck, yes. Before
In the Fast Lane
, I have yet to find a book with a female race car driving protagonist I like. I read Katie McGarry's
Crash Into You
and I was really excited for it but I ended up a bit disappointed. It was more focused on the romance and the racing part was mostly just talk. So when I heard about
In the Fast Lane
I immediately got myself a copy and hope this is finally it. And I did love it. The racing and the race-car-driving-protagonist, Kerri. The rest? Hmm.
Being the only female driver in their racing business, you'd think Kerri would be a cocky one. At least, that's what the media says about her. What I found instead was a passionate person who values her family and racing and doesn't let bad publicity put her down just because she's a girl. So when Ranger Colt arrives to take away her legacy, she'll do anything to hold on to it.
I love Kerri. Seriously, she is the best thing in this book. She is so different from Ranger, whose definition of success is money. But despite that I'm glad that they worked through their differences just so they can meet their goal. Of course, the romance between the two of them is unavoidable. It's not real and it's temporary but they got to know each other or rather, Kerri got to know and understand Ranger. She doesn't agree with his beliefs and she probably knows him more than he knows himself but with the time they spent together, he got to experience what it's like to live in her world. But Ranger is SO. FREAKING. BLIND. It's not his fault though. The guy's got serious issues growing up that led to all his messed up views of the world.
The downside of this book is that it's too short for the story. The romance wasn't instalove-y and it has substance but it would have been better if it was given time to build up. And the story behind Ranger's life, especially that part with his father at the end, is too significant and emotional to just fit in one chapter. I loved the racing, I loved the story... I just wish
In the Fast Lane
is more than 170 pages.