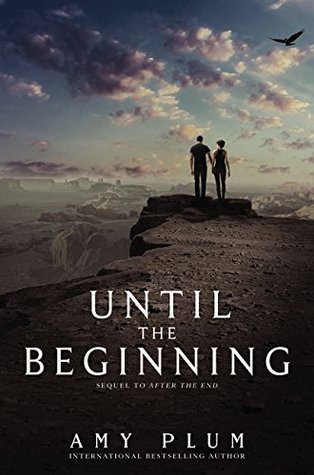 Until the Beginning
(After the End #2)
by Amy Plum
Published: May 5, 2015
When Juneau's clan disappeared, she lost so much more than her friends and family. She soon discovered everything she thought she knew about her life was a lie. Her people's gifts were actually secret abilities that others wanted, desperately enough to kidnap an entire village.
Juneau and her new companion Miles's cross-country journey to find her clan has led them to a game preserve in New Mexico. Now Juneau's people are finally within reach, and she will stop at nothing to save them. But she has a target on her back too, because unbeknownst to her she is the key to unlocking everything. To rescue her people - and herself - Juneau must discover what she, and her abilities, are truly capable of.
I didn't realize how much I missed the characters until I started
Until the Beginning
, which I did as soon as I got my copy in the mail. After a hundred pages in, I was itching for a reread of the first book so I set this one aside for a while. But I remembered my cousin borrowing
After the End
and it will probably be with her for a while still. I figured some of the details I forgot will surely come back so I decided to go on.
She says something about the Yara. About my becoming one with it. About dedicating my life to the earth. I hear the words but they bounce off me, like I'm made of rubber. My words scratch against my throat. "Juneau, what the hell are you talking about?"
I can't help it. I have to let out a chuckle. Juneau is as weird as ever but hey, that's why I love her.
Until the Beginning
started right where
After the End
(these titles are confusing, by the way, book order-wise) left us and the first sentence almost made my heart stop. It was focused on Juneau's rescue attempt of her clan and finding more answers about the life she's living which is all a lie. I have to give it to her - this girl has admirable composure. And I applaud Miles as well simply for being him. He may have been the rich, preppy guy and the "lesser" of the two in the Juneau-Miles tandem but he keeps up. He knows his strength, he knows when to step back and he learns.
But then I look up and see the night sky practically spilling over with twinkling stars, backlit by the glowing haze of the Milky Way, and humanity's feeble attempt at supremacy seems laughable. All this will end, I think, looking back down at Avery's electrifies banner, but nature will go on forever.
There are two things that I really liked in this series. One is Juneau and Miles, and the second is the concept: science versus belief. It is such an interesting topic for a story but this is one of those books that could have been much better. It's a great one and I really enjoyed reading it but it has so much potential to be more and I was a little bit disappointed that it didn't reach that.
After I finished
Until the Beginning
I was hoping for a sequel. I mean, there has to be, right? It sure felt like an ending to me, but not for a series. Alas, there isn't going to be any sequel. Which is sad because that ending was too vague and not everything was properly resolved.
I have decided to follow my heart instead of my head. To barge in like gangbusters. It doesn't make sense, and isn't strategically sound, but maybe I'm not the great leader I'm supposed to be. Maybe I'm just a girl who misses her family.
*An ARC was provided by the publisher for this review.