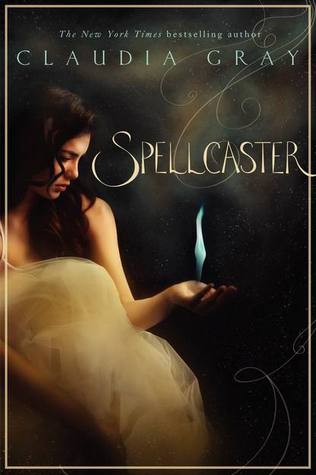 Spellcaster
(Spellcaster #1)
by Claudia Gray
Published: March 5, 2013
When Nadia's family moves to Captive's Sound, she instantly realizes there's more to it than meets the eye. Descended from witches, Nadia senses a dark and powerful magic at work in her new town. Mateo has lived in Captive's Sound his entire life, trying to dodge the local legend that his family is cursed - and that curse will cause him to believe he's seeing the future … until it drives him mad. When the strange dreams Mateo has been having of rescuing a beautiful girl—Nadia—from a car accident come true, he knows he's doomed.
Despite the forces pulling them apart, Nadia and Mateo must work together to break the chains of his family's terrible curse, and to prevent a disaster that threatens the lives of everyone around them. Shimmering with magic and mystery, New York Times bestselling author Claudia Gray's new novel is sure to draw fans of the Hex Hall and Caster Chronicles series, and fans of the hit CW TV show The Secret Circle.
The main reason why I bought this book is because of that beautiful cover and it's about witchcraft. I ended up disappointed. I've heard about Claudia Gray's
Evernight
series but I've never been interested in reading them. I can't not pick up
Spellcaster
, though. I love books about witches and one of my favorites is
Hex Hall
by
Rachel Hawkins
. It says at the end of the summary that:
...Claudia Gray's new novel is sure to draw fans of the Hex Hall and Caster Chronicles series, and fans of the hit CW TV show The Secret Circle.
Not a big fan of the
Caster Chronicles
, didn't make it past the first episode of
The Secret Circle
, but
Hex Hall
? I loved it. The book is hilarious. The main characters, Sophie and Archer, are amazing and kick-ass.
Spellcaster
... is none of those.
I couldn't make myself care for the characters or the story. Reading the book feels like I'm just going through the motions. It's superficial. And flat. The story, the writing, the characters aren't very remarkable. It doesn't have a great worldbuilding. Romance is meh. Cheesy. The witchcraft is meh. And I couldn't figure out what Verlaine's role here really is. I feel like her role in the story is kind of misplaced? I don't really get it.
There were some instances where I found myself enjoying the book quite a bit and was mainly what kept me going but for the most part it was just okay. Boring. This is the first book by Claudia Gray I read but I've heard other people say that
Evernight
is better than
Spellcaster
. I most probably still won't read them, though. But I'm definitely picking up
A Thousand Pieces of You
because it sounds really good and it's Sci-Fi. I am also a big fan of that genre.
Will I be reading
Steadfast
? Might as well since I already own a copy, but not anytime soon. I'm just glad Cole is here (in Spellcaster, I mean). I love baby brothers/sisters in books and he is such a cute kid.