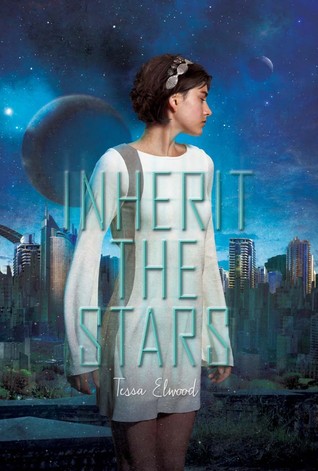 Inherit the Stars
(Inherit the Stars #1)
by Tessa Elwood
Expected publication: December 8, 2015
Three royal houses ruling three interplanetary systems are on the brink of collapse, and they must either ally together or tear each other apart in order for their people to survive.
Asa is the youngest daughter of the house of Fane, which has been fighting a devastating food and energy crisis for far too long. She thinks she can save her family's livelihood by posing as her oldest sister in an arranged marriage with Eagle, the heir to the throne of the house of Westlet. The appearance of her mother, a traitor who defected to the house of Galton, adds fuel to the fire, while Asa also tries to save her sister Wren's life . . . possibly from the hands of their own father.
But as Asa and Eagle forge a genuine bond, will secrets from the past and the urgent needs of their people in the present keep them divided?
Author Tessa Elwood's debut series is an epic romance at heart, set against a mine field of political machinations, space adventure, and deep-seeded family loyalties.
...a mine field of political machinations, space adventure, and deep-seeded family loyalties.
Heck yeah! Think
These Broken Stars
without the rich, spoiled, closet techie heiress and the handsome war hero.
Inherit the Stars
started right in the middle of an action scene that made me go,
"This is just what I need right now."
Well, I am sorry to disappoint but that is all the action there is. That may be a downer but I did enjoy reading this book. Not once did I think about not finishing it although, to be honest, it isn't perfect.
It took me a while to warm up to the writing, reading the book in Asa's perspective. It has quite a lyrical feel to it reminiscent of Juliette in
Shatter Me
. The main character, Asa, is not your typical kick-ass heroine you'd usually expect in a space adventure book. In fact, she is kind of naive, young, reckless. The youngest of three. She doesn't have a great relationship with her dad, she doesn't remember her mom, and her sisters prefer her in silent mode. There are times when I really want to dislike her but mostly I just pity her. Asa has her shining moments but most of the time her decisions are made based on the immediate and desired result but not considering what happens after that or the other consequences.
That is not necessarily a bad thing in a book because, well, that's her character. What this book lacks, though, is world-building and a great deal of backstory. For a world with supposedly hundreds of planets it feels so small and limited. And I don't know anything about the characters except the passing thoughts in Asa's head. Take, for instance, her relationship with her oldest sister, Wren. It is apparent that Asa favors her more than her other sister, Emmie. But why? What kind of relationship do they have? How do they interact with each other? I don't know because Wren is practically non-existent in this book.
What I did like and made me keep reading is Asa and Eagle together. I really like them. They are such a sweet pair and Eagle is obviously a nice guy. I would have loved Eagle more if, again, I know his story - his life before her Asa, his relationship with his family... Oooh, also the plot twists. I did not see those coming.
Inherit the Stars
did not wow me but it has potential. Despite what I've pointed out in my review, it still is a good read and I recommend it. I'm definitely going to pick up the next book because 1) more Asa and Eagle and 2) I just want to know what happens next.
*An Advanced Reading Copy was provided by the publisher and NetGalley for this review.