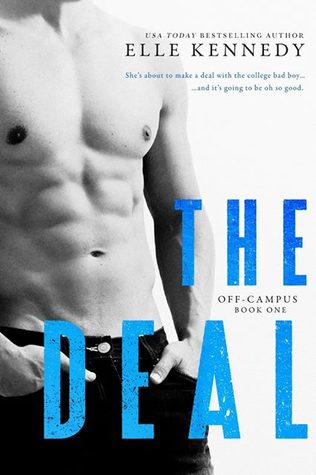 The Deal
(Off-Campus #1)
by Elle Kennedy
Published: February 24, 2015
She's about to make a deal with the college bad boy...
Hannah Wells has finally found someone who turns her on. But while she might be confident in every other area of her life, she's carting around a full set of baggage when it comes to sex and seduction. If she wants to get her crush's attention, she'll have to step out of her comfort zone and make him take notice... even if it means tutoring the annoying, childish, cocky captain of the hockey team in exchange for a pretend date.
...and it's going to be oh so good.
All Garrett Graham has ever wanted is to play professional hockey after graduation, but his plummeting GPA is threatening everything he's worked so hard for. If helping a sarcastic brunette make another guy jealous will help him secure his position on the team, he's all for it. But when one unexpected kiss leads to the wildest sex of both their lives, it doesn't take long for Garrett to realize that pretend isn't going to cut it. Now he just has to convince Hannah that the man she wants looks a lot like him.
Sure, unexpected kisses that leads to wild sex between bad boys and good girls or whichever is typical in NA books. I don't care much about that as long as I enjoy reading it. Thanks to a particularly funny quote I saw on Facebook,
The Deal
immediately made it to the top of my TBR pile. Cliché or not, if a snippet from the book made me laugh, it sure is worth checking out. Boy, was I ever glad I did.
Hannah has baggage, no surprise there, but it caught me off guard that the author chose not to beat around the bush in revealing what it is and I give props to that. Pretty much all books I've read with baggage laden characters like to prolong the mystery eventhough it's freaking obvious from the start. Well, Ms. Kennedy laid it all out there on page one. I loved that for once a character has learned to come to terms with such baggage but understandably, one can't fully heal. Hannah may have worked through it but it still left a tiny part of her broken.
And then there's Garrett Graham who wasn't even in Hannah's radar (and vice versa) until a failed test forced him to enlist the help of the-girl-whose-name-I'm-pretty-sure-starts-with-an-M (lol) if he wants to pull his grades up stat in order to play hockey.
This book is so funny and add these remarkable set of characters and everything's good. If not for them, I wouldn't have enjoyed this as much. And as it turned out, this ain't so typical after all. I mean, yeah, boy likes girl, girl likes another boy, blah blah. But the way the author presented the circumstances and how it's dealt with is maybe simple and predictable but realistic. Majority of NA books has too much drama! And here are two responsible and reasonable main characters who actually acts their age. Who talk things out instead of coming to conclusions that lead to, what else, the biggest mistake and regrets of their life.
I love Garrett and Hannah. I love them together. I love the balance of romance and college and personal life. I love that there's music. All in all,
The Deal
is a highly recommended and re-read worthy book. I can't wait for the next installment which I heard will be about Logan. I really liked him in this book :)