New Book Releases this April 2015
*cover image links to Goodreads*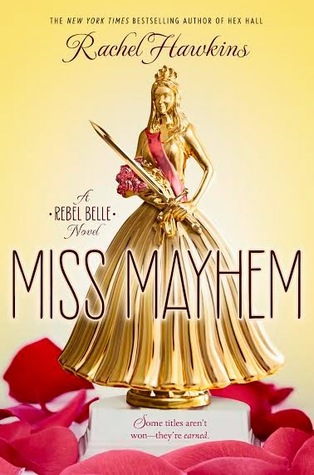 Miss Mayhem
(Rebel Belle #2)
by Rachel Hawkins
Published: April 7, 2015
The Book Depository
__________

Life is almost back to normal for Harper Price. The Ephors have been silent after their deadly attack at Cotillion months ago, and best friend Bee has returned after a mysterious disappearance. Now Harper can return her focus to the important things in life: school, canoodling with David, her nemesis-turned-ward-slash-boyfie, and even competing in the Miss Pine Grove pageant.

Unfortunately, supernatural chores are never done. The Ephors have decided they'd rather train David than kill him. The catch: Harper has to come along for the ride, but she can't stay David's Paladin unless she undergoes an ancient trial that will either kill her . . . or connect her to David for life.
The Truth About Us
by Janet Gurtler
Published: April 7, 2015
The Book Depository
__________

A powerful and gripping contemporary YA from the author of I'm Not Her that's just right for fans of Sarah Dessen and Jodi Picoult."-Booklist

The truth is that Jess knows she screwed up.
She's made mistakes, betrayed her best friend, and now she's paying for it. Her dad is making her spend the whole summer volunteering at the local soup kitchen.

The truth is she wishes she was the care-free party-girl everyone thinks she is.
She pretends it's all fine. That her "perfect" family is fine. But it's not. And no one notices the lie...until she meets Flynn. He's the only one who really sees her. The only one who listens.

The truth is that Jess is falling apart – and no one seems to care.
But Flynn is the definition of "the wrong side of the tracks." When Jess's parents look at him they only see the differences-not how much they need each other. They don't get that the person who shouldn't fit in your world... might just be the one to make you feel like you belong.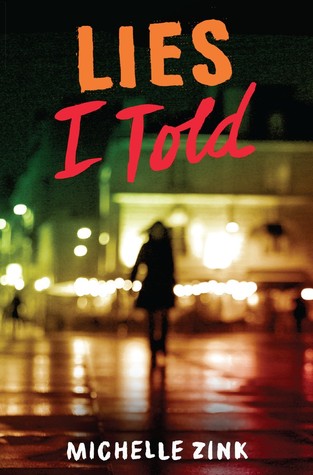 Lies I Told
(Lies I Told #1)
by Michelle Zink
Published: April 7, 2015
The Book Depository
_________

What if, after spending a lifetime deceiving everyone around you, you discovered the biggest lies were the ones you've told yourself?

Grace Fontaine has everything: beauty, money, confidence, and the perfect family.

But it's all a lie.

Grace has been adopted into a family of thieves who con affluent people out of money, jewelry, art, and anything else of value. Grace has never had any difficulty pulling off a job, but when things start to go wrong on the Fontaines' biggest heist yet, Grace finds herself breaking more and more of the rules designed to keep her from getting caught...including the most important one of all: never fall for your mark.

Perfect for fans of Ally Carter, Cecily von Ziegesar, and Gail Carriger, this thrilling, high-stakes novel deftly explores the roles of identity and loyalty while offering a window into the world of the rich and fabulous.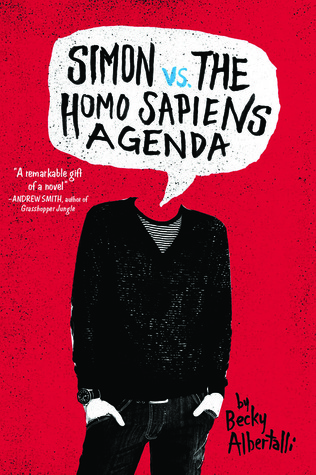 Simon vs. the Homo Sapiens Agenda
by Becky Albertalli
Published: April 7, 2015
The Book Depository
__________

Sixteen-year-old and not-so-openly gay Simon Spier prefers to save his drama for the school musical. But when an email falls into the wrong hands, his secret is at risk of being thrust into the spotlight. Now Simon is actually being blackmailed: if he doesn't play wingman for class clown Martin, his sexual identity will become everyone's business. Worse, the privacy of Blue, the pen name of the boy he's been emailing, will be compromised.

With some messy dynamics emerging in his once tight-knit group of friends, and his email correspondence with Blue growing more flirtatious every day, Simon's junior year has suddenly gotten all kinds of complicated. Now, change-averse Simon has to find a way to step out of his comfort zone before he's pushed out—without alienating his friends, compromising himself, or fumbling a shot at happiness with the most confusing, adorable guy he's never met.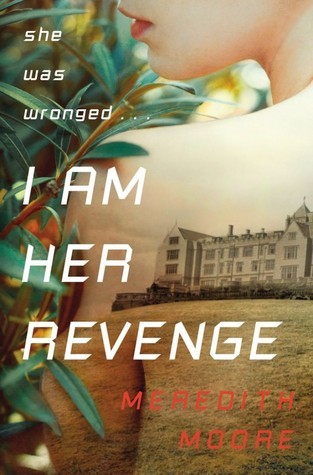 I Am Her Revenge
by Meredith Moore
Published: April 7, 2015
The Book Depository
___________

She can be anyone you want her to be.
Vivian was raised with one purpose in life: to exact revenge on behalf of her mother. Manipulative and cruel, Mother has deprived Vivian not only of a childhood, but of an original identity. With an endless arsenal of enticing personalities at her disposal, Vivian is a veritable weapon of deception.

And she can destroy anyone.
When it's time to strike, she enrolls in a boarding school on the English moors, where she will zero in on her target: sweet and innocent Ben, the son of the man who broke Mother's heart twenty years ago.

Anyone… except for the woman who created her.
With every secret she uncovers, Vivian comes one step closer to learning who she really is. But the more she learns about herself, the more dangerous this cat and mouse game becomes. Because Mother will stop at nothing to make sure the truth dies with her.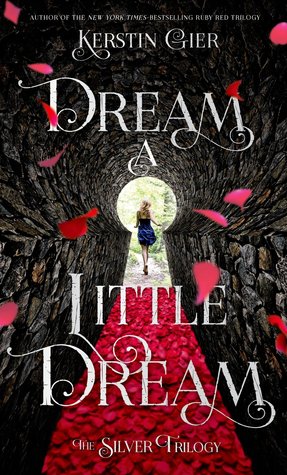 Dream a Little Dream
(Silver #1)
by Kerstin Gier
Published: April 14, 2015
The Book Depository
_________

Mysterious doors with lizard-head knobs. Talking stone statues. A crazy girl with a hatchet. Yep, Liv's dreams have been pretty weird lately. Especially this one where she's in a graveyard at night, watching four boys perform dark magic rituals.

The really weird thing is that Liv recognizes the boys in her dream. They're classmates from her new school in London, the school where's she's starting over because her mom has moved them to a new country (again). But they seem to know things about her in real life that they couldn't possibly know, which is mystifying. Then again, Liv could never resist a good mystery. . .
The Wondrous and the Wicked
(The Dispossessed #3)
by Page Morgan
Published: April 14, 2015
The Book Depository
__________

For fans of Lauren Kate's Fallen series comes the exciting conclusion to the trilogy that includes The Beautiful and the Cursed and The Lovely and the Lost. The Waverly sisters must save themselves before all is lost.

Since the Waverlys arrived in Paris, the streets have grown more fearsome by the day. As Ingrid learns to master her lectrux gift, she must watch Axia's power grow strong enough to extend beyond her Underneath hive. By all indications, the fallen angel's Harvest is near-and the timing couldn't be worse.

Targeted by vengeful gargoyles, Gabby has been exiled to London for her own protection. Meanwhile, the gargoyle castes are in disarray, divided between those who want Luc to lead them and those who resent him and his fondness for humans. The Alliance is crumbling from the inside as well, its members turning against one another, and possibly against the Waverlys, too.

Axia has promised that the world will burn. And now, unable to trust the Alliance, separated from Luc, Gabby, and her twin, Grayson, Ingrid is left to face the demon uprising alone.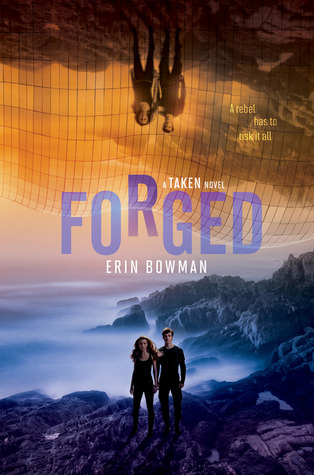 Forged
(Taken #3)
by Erin Bowman
Published: April 14, 2015
The Book Depository
___________

Gray Weathersby and his group of rebels must make their final stand in the epic conclusion to the Taken trilogy, which New York Times bestselling author Marie Lu called "an action-packed thrill ride from beginning to end."

The Order is building an unstoppable army, with every generation of Forgeries harder to detect and deadlier than the one before. It's time for Gray and his fellow rebels to end the Order's world of lies. But when the most familiar faces—and even the girl he loves—can't be trusted, Gray will have to tread carefully if he wants to succeed. Or survive.
First There Was Forever
by Juliana Romano
Published: April 14, 2015
The Book Depository
___________

Perfect for fans of Jenny Han's The Summer I Turned Pretty and Huntley Fitzpatrick's My Life Next Door, Juliana Romano's expressive debut is an absorbing and bittersweet story about first love, first loss, and the friends that carry us through it all.

Lima and Hailey have always been best friends: Lima shy and sensitive, Hailey funny and free-spirited. But Hailey abandons Lima to party with the popular kids and pursue Nate, her disinterested crush. As their friendship falters, Lima and Nate begin spending more time together. And before Lima knows what she's feeling, she and Nate do something irreversible. Something that would hurt Hailey....if she knew it happened.

Lima thinks she's saving her friendship by lying, but she's only buying time. As the secrets stack up, Lima is forced to make a choice: between her best friend forever, and the boy who wasn't meant to be hers.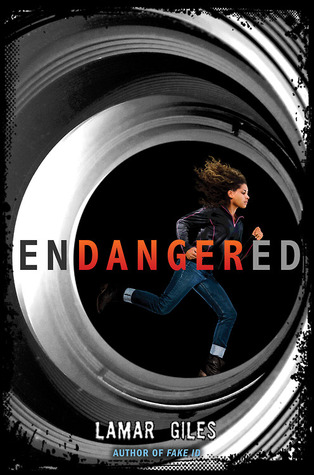 Endangered
by Lamar Giles
Published: April 21, 2015
The Book Depository
__________

Endangered is a thrilling page-turner perfect for fans of Barry Lyga's I Hunt Killers.

The one secret she cares about keeping—her identity—is about to be exposed. Unless Lauren "Panda" Daniels—an anonymous photoblogger who specializes in busting classmates and teachers in compromising positions—plays along with her blackmailer's little game of Dare or . . . Dare.

But when the game turns deadly, Panda doesn't know what to do. And she may need to step out of the shadows to save herself . . . and everyone else on the Admirer's hit list.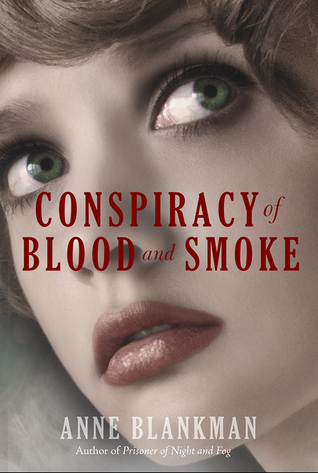 Conspiracy of Blood and Smoke
(Prisoner of Night and Fog #2)
by Anne Blankman
Published: April 21, 2015
The Book Depository
___________

The girl known as Gretchen Whitestone has a secret: She used to be part of Adolf Hitler's inner circle. More than a year after she made an enemy of her old family friend and fled Munich, she lives with a kindly English family, posing as an ordinary German immigrant, and is preparing to graduate from high school. Her love, Daniel Cohen, is a reporter in town. For the first time in her life, Gretchen is content.

But then, Daniel gets a telegram that sends him back to Germany, and Gretchen's world turns upside-down. And when she receives word that Daniel is wanted for murder, she has to face the danger she thought she'd escaped-and return to her homeland.

Gretchen must do everything she can to avoid capture and recognition, even though saving Daniel will mean consorting with her former friends, the Nazi elite. And as they work to clear Daniel's name, Gretchen and Daniel discover a deadly conspiracy stretching from the slums of Berlin to the Reichstag itself. Can they dig up the explosive truth and get out in time-or will Hitler discover them first?
The Death Code
(The Murder Complex #2)
by Lindsay Cummings
Published: April 21, 2015
The Book Depository
____________

With short, fast-paced, alternating point-of-view chapters, The Death Code starts several weeks after The Murder Complex ended. Zephyr keeps the secret about Meadow close—that if she dies, The Murder Complex will be destroyed, too. Meadow, desperate to find her brother, father, and little sister, is determined to fearlessly fight to the end, even if it means sacrificing herself and her friends, new and old. The Death Code introduces a memorable cast of secondary characters and delivers a vivid and scary thrill ride read.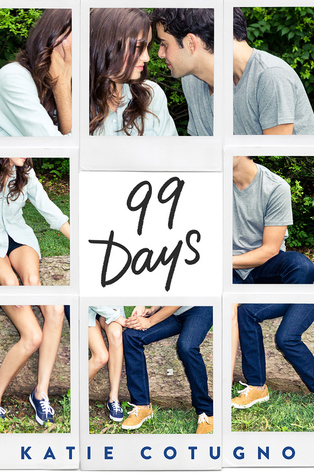 99 Days
by Katie Cotugno
Published: April 21, 2015
The Book Depository
___________

Day 1: Julia Donnelly eggs my house my first night back in Star Lake, and that's how I know everyone still remembers everything—how I destroyed my relationship with Patrick the night everything happened with his brother, Gabe. How I wrecked their whole family. Now I'm serving out my summer like a jail sentence: Just ninety-nine days till I can leave for college, and be done.

Day 4: A nasty note on my windshield makes it clear Julia isn't finished. I'm expecting a fight when someone taps me on the shoulder, but it's just Gabe, home from college and actually happy to see me. "For what it's worth, Molly Barlow," he says, "I'm really glad you're back."

Day 12: Gabe got me to come to this party, and I'm actually having fun. I think he's about to kiss me—and that's when I see Patrick. My Patrick, who's supposed to be clear across the country. My Patrick, who's never going to forgive me.