New Book Releases this March 2015
*cover image links to Goodreads*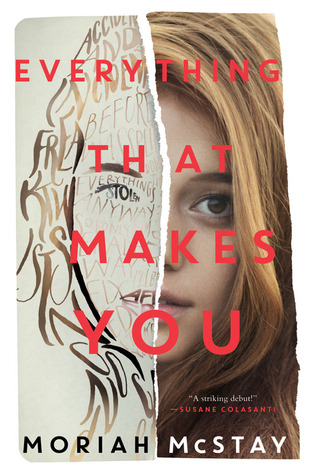 Everything That Makes You
by Moriah McStay
Published: March 17, 2015
The Book Depository
____________

One girl. Two stories. Meet Fiona Doyle. The thick ridges of scar tissue on her face are from an accident twelve years ago. Fiona has notebooks full of songs she's written about her frustrations, her dreams, and about her massive crush on beautiful uber-jock Trent McKinnon. If she can't even find the courage to look Trent straight in his beautiful blue eyes, she sure isn't brave enough to play or sing any of her songs in public. But something's changing in Fiona. She can't be defined by her scars anymore.

And what if there hadn't been an accident? Meet Fi Doyle. Fi is the top-rated female high school lacrosse player in the state, heading straight to Northwestern on a full ride. She's got more important things to deal with than her best friend Trent McKinnon, who's been different ever since the kiss. When her luck goes south, even lacrosse can't define her anymore. When you've always been the best at something, one dumb move can screw everything up. Can Fi fight back?

Hasn't everyone wondered what if? In this daring debut novel, Moriah McStay gives us the rare opportunity to see what might have happened if things were different. Maybe luck determines our paths. But maybe it's who we are that determines our luck.
Liars, Inc.
by Paula Stokes
Published: March 24, 2015
The Book Depository
___________

For fans of Gone Girl, I Hunt Killers, and TV's How to Get Away with Murder.

Max Cantrell has never been a big fan of the truth, so when the opportunity arises to sell forged permission slips and cover stories to his classmates, it sounds like a good way to make a little money and liven up a boring senior year. With the help of his friends Preston and Parvati, Max starts Liars, Inc. Suddenly everybody needs something and the cash starts pouring in. Who knew lying could be so lucrative?

When Preston wants his own cover story to go visit a girl he met online, Max doesn't think twice about hooking him up. Until Preston never comes home. Then the evidence starts to pile up—terrifying clues that lead the cops to Preston's body. Terrifying clues that point to Max as the murderer.

Can Max find the real killer before he goes to prison for a crime he didn't commit? In a story that Kirkus Reviews called "Captivating to the very end," Paula Stokes starts with one single white lie and weaves a twisted tale that will have readers guessing until the explosive final chapters.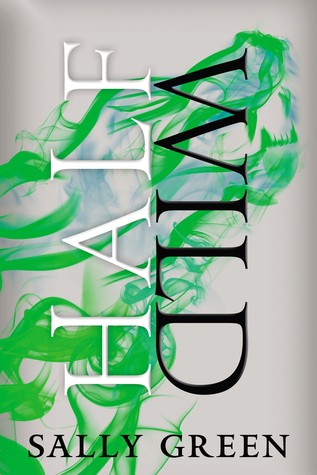 Half Wild
(The Half Bad Trilogy #2)
by Sally Green
Published: March 24, 2015
The Book Depository
__________

"You will have a powerful Gift, but it's how you use it that will show you to be good or bad."

In a modern-day England where two warring factions of witches live amongst humans, seventeen-year-old Nathan is an abomination, the illegitimate son of the world's most powerful and violent witch. Nathan is hunted from all sides: nowhere is safe and no one can be trusted. Now, Nathan has come into his own unique magical Gift, and he's on the run--but the Hunters are close behind, and they will stop at nothing until they have captured Nathan and destroyed his father.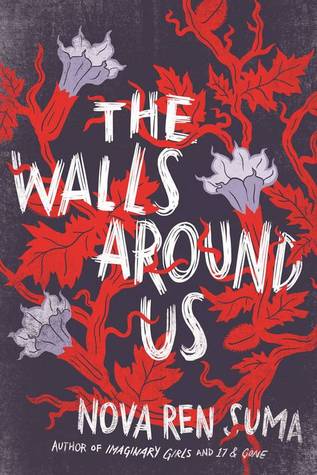 The Walls Around Us
by Nova Ren Suma
Published: March 24, 2015
The Book Depository
__________

"Ori's dead because of what happened out behind the theater, in the tunnel made out of trees. She's dead because she got sent to that place upstate, locked up with those monsters. And she got sent there because of me."

The Walls Around Us is a ghostly story of suspense told in two voices—one still living and one long dead. On the outside, there's Violet, an eighteen-year-old dancer days away from the life of her dreams when something threatens to expose the shocking truth of her achievement. On the inside, within the walls of a girls' juvenile detention center, there's Amber, locked up for so long she can't imagine freedom. Tying these two worlds together is Orianna, who holds the key to unlocking all the girls' darkest mysteries.

We hear Amber's story and Violet's, and through them Orianna's, first from one angle, then from another, until gradually we begin to get the whole picture—which is not necessarily the one that either Amber or Violet wants us to see.

Nova Ren Suma tells a supernatural tale of guilt and innocence, and what happens when one is mistaken for the other.
We All Looked Up
by Tommy Wallach
Published: March 24, 2015
The Book Depository
__________

Four high school seniors put their hopes, hearts, and humanity on the line as an asteroid hurtles toward Earth in this contemporary novel.

They always say that high school is the best time of your life.

Peter, the star basketball player at his school, is worried "they" might actually be right. Meanwhile Eliza can't wait to escape Seattle—and her reputation—and perfect-on-paper Anita wonders if admission to Princeton is worth the price of abandoning her real dreams. Andy, for his part, doesn't understand all the fuss about college and career—the future can wait.

Or can it? Because it turns out the future is hurtling through space with the potential to wipe out life on Earth. As these four seniors—along with the rest of the planet—wait to see what damage an asteroid will cause, they must abandon all thoughts of the future and decide how they're going to spend what remains of the present.
Awakening You


(Unraveling You #3)
by Jessica Sorensen
Published: March 24, 2015
___________

Lately, life has been going well for Ayden. His relationship with Lyric is starting to heat up and his career in music is taking off. But the disappearance of his sister still weighs heavily on his mind.

Desperate to find out where his sister is, Ayden decides to take drastic measures. But his dangerous risk leads to the unraveling of secrets, and he's left facing a darker past then he ever could have imagined.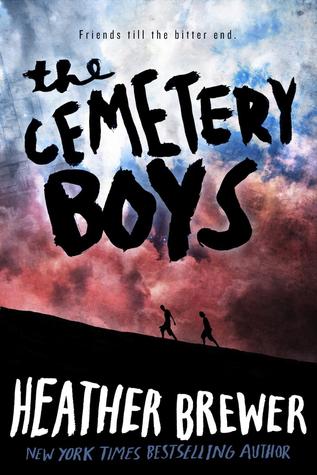 The Cemetery Boys
by Heather Brewer
Published: March 30, 2015
The Book Depository
_________

When Stephen is forced to move back to the nowhere town where his father grew up, he's already sure he's not going to like it. Spencer, Michigan, is like a town straight out of a Hitchcock movie, with old-fashioned people who see things only in black-and-white. But things start looking up when Stephen meets the mysterious twins Cara and Devon. They're total punks–hardly the kind of people Stephen's dad wants him hanging out with–but they're a breath of fresh air in this backward town. The only problem is, Cara and Devon don't always get along, and as Stephen forms a friendship with the charismatic Devon and something more with the troubled Cara, he starts to feel like he's getting caught in the middle of a conflict he doesn't fully understand. And as Devon's group of friends, who hang out in a cemetery they call The Playground, get up to increasingly reckless activities to pass the summer days, Stephen worries he may be in over his head.

Stephen's fears prove well-founded when he learns of Spencer's dark past. It seems the poor factory town has a history of "bad times," and many of the town's oldest residents attribute the bad times to creatures right out of an urban legend. The legend goes that the only way the town will prosper again is if someone makes a sacrifice to these nightmarish creatures. And while Stephen isn't one to believe in old stories, it seems Devon and his gang might put a lot of faith in them. Maybe even enough to kill for them.

Now, Stephen has to decide what he believes, where his allegiances lie, and who will really be his friend in the end.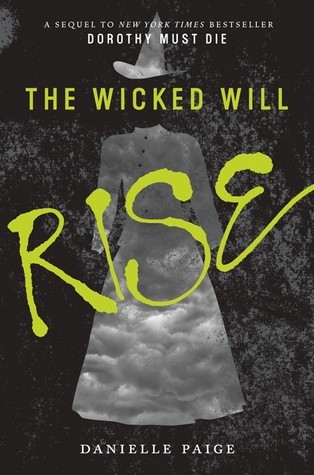 The Wicked Will Rise
(Dorothy Must Die #2)
by Danielle Paige
Published: March 31, 2015
The Book Depository
__________

In this dark, high-octane sequel to the New York Times bestselling Dorothy Must Die, Amy Gumm must do everything in her power to kill Dorothy and free Oz.

To make Oz a free land again, Amy Gumm was given a mission: remove the Tin Woodman's heart, steal the Scarecrow's brain, take the Lion's courage, and then Dorothy must die....

But Dorothy still lives. Now the Revolutionary Order of the Wicked has vanished, and mysterious Princess Ozma might be Amy's only ally. As Amy learns the truth about her mission, she realizes that she's only just scratched the surface of Oz's past—and that Kansas, the home she couldn't wait to leave behind, may also be in danger. In a place where the line between good and evil shifts with just a strong gust of wind, who can Amy trust—and who is really Wicked?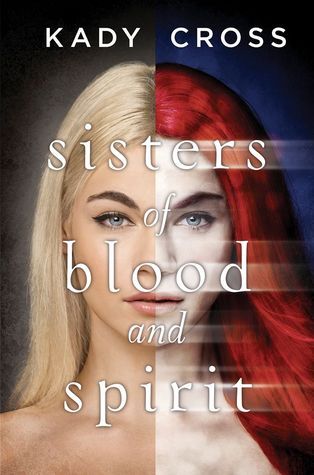 Sisters of Blood and Spirit
(Sisters of Blood and Spirit #1)
by Kady Cross
Published: March 31, 2015
The Book Depository
___________

Wren Noble is dead—she was born that way. Vibrant, unlike other dead things, she craves those rare moments when her twin sister allows her to step inside her body and experience the world of the living.

Lark Noble is alive but often feels she belongs in the muted Shadow Lands—the realm of the dead. Known as the crazy girl who talks to her dead sister, she doesn't exactly fit in with the living, though a recent suicide attempt and time in a psych ward have proved to her she's not ready to join her sister in the afterlife.

Now the guy who saved Lark's life needs her to repay the favor. He and his friends have been marked for death by the malevolent spirit of a vicious and long-dead serial killer, and the twins—who should know better than to mess with the dead—may be their only hope of staying alive.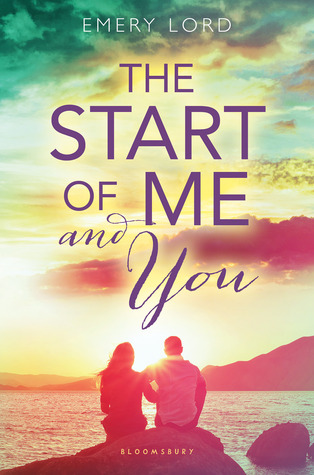 The Start of Me and You
by Emery Lord
Published: March 31, 2015
The Book Depository
_________

Following her pitch-perfect debut Open Road Summer, Emery Lord pens another gorgeous story of best friends, new love, & second chances.

Brimming with heartfelt relationships and authentic high-school dynamics The Start of Me and You proves that it's never too late for second chances.

It's been a year since it happened—when Paige Hancock's first boyfriend died in an accident. After shutting out the world for two years, Paige is finally ready for a second chance at high school . . . and she has a plan. First: Get her old crush, Ryan Chase, to date her—the perfect way to convince everyone she's back to normal. Next: Join a club—simple, it's high school after all. But when Ryan's sweet, nerdy cousin, Max, moves to town and recruits Paige for the Quiz Bowl team (of all things!) her perfect plan is thrown for a serious loop. Will Paige be able to face her fears and finally open herself up to the life she was meant to live?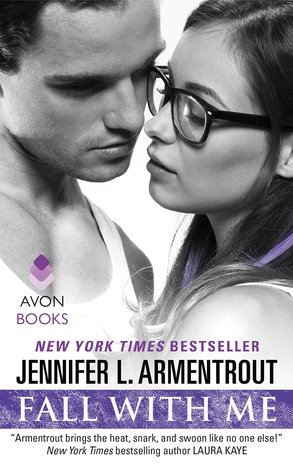 Fall with Me
(Wait for You #4)
by J. Lynn, Jennifer L. Armentrout
Published: March 31, 2015
The Book Depository
__________

Eleven months ago, bartender and weird-shirt-wearing extraordinaire Roxy and Officer Reece Anders had a one night stand. Well, kind of. She's been in love with him since she was fifteen, and he wishes that night they shared never happened. She's sworn him off forever, but the past and future collide, forcing her to rely on the one man who broke her heart not once, but twice.

Her best friend since birth has been in a long-term care facility since he became a victim of a hate crime years ago, and the person who put him in there is out of prison and wanting to make amends with him and Roxy. She's not sure she has room for forgiveness in her and when she begins to receive frightening messages and is on the receiving end of escalating violence, she thinks she knows who is to blame. The man who already destroyed one life already.

But Reece isn't convinced. The threats are too personal, and even if Roxy doesn't believe him, he's not willing to let anyone hurt her. Including himself. He's already messed up more than once when it comes to Roxy and he's not going to let history repeat itself.
The Evertree
(Spirit Animals #7)
by Marie Lu
Published: March 31, 2015
The Book Depository
__________

Everything comes to a head in this seventh book in the New York Times bestselling series. The world of Erdas will be changed forever.

Conor, Abeke, Meilin, and Rollan were once ordinary kids. Then they discovered that they had spirit animals-wise and powerful partners who granted them with amazing gifts . . . and a legendary responsibility.

Together, the team has journeyed across Erdas, racing to stop a merciless foe. They have laughed and fought together. They've won challenges and lost friends. Some have even lost themselves.

Now that journey is about to end. They must reach a place forgotten by time and face off against an ancient enemy breaking free from his prison. They have just one chance to stop him . . . or the whole world will shatter.
Where Sea Meets Sky
by Karina Halle
Published: March 31, 2015
The Book Depository
__________

A new adult novel that perfectly captures the existential angst of your early twenties with raw wit, fresh insight, and true feeling from a critically adored USA TODAY bestselling author.

Joshua Miles has spent his early twenties spinning his wheels. Working dead-end jobs and living at home has left him exhausted and uninspired, with little energy to pursue his passion for graphic art. Until he meets Gemma Henare, a vivacious out-of-towner from New Zealand. What begins as a one-night stand soon becomes a turning point for Josh. He can't get Gemma out of his head, even after she has left for home, and finds himself throwing caution to the wind for the first time in his life.

It's not long before Josh is headed to New Zealand with only a backpack, some cash, and Gemma's name to go on. But when he finally tracks her down, he finds his adventure is only just beginning. Equally infatuated, Gemma leads him on a whirlwind tour across the beautiful country, opening Josh up to life, lust, love, and all the messy heartache in between. Because, when love drags you somewhere, it might never let go even when you know you have to say goodbye.