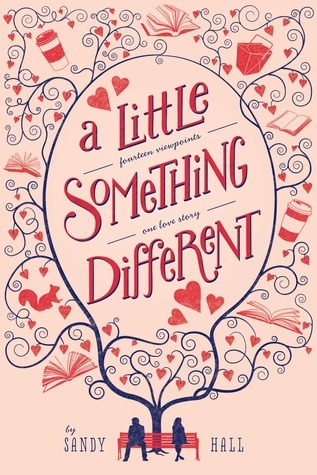 A Little Something Different
by Sandy Hall
Published: August 26, 2014
The creative writing teacher, the delivery guy, the local Starbucks baristas, his best friend, her roommate, and the squirrel in the park all have one thing in common—they believe that Gabe and Lea should get together. Lea and Gabe are in the same creative writing class. They get the same pop culture references, order the same Chinese food, and hang out in the same places. Unfortunately, Lea is reserved, Gabe has issues, and despite their initial mutual crush, it looks like they are never going to work things out. But somehow even when nothing is going on, something is happening between them, and everyone can see it. Their creative writing teacher pushes them together. The baristas at Starbucks watch their relationship like a TV show. Their bus driver tells his wife about them. The waitress at the diner automatically seats them together. Even the squirrel who lives on the college green believes in their relationship.
Surely Gabe and Lea will figure out that they are meant to be together....
Well, this is certainly a little something different. A 272-page book about the "love" story of Gabe and Lea, told in different point of views - a creative writing teacher, a bus driver, a friend, a roommate, an older brother, a bench, a squirrel, that guy in class who's always angry.. but never Gabe and Lea's. This takes multiple POV to a whole new level.
It's a different reading experience given the way it was written although it was a little disorienting at first and hard to follow because the perspective changes really fast. But as soon as I got the hang of it, it was very enjoyable.
The story is basically about this girl and this boy who likes each other. Everyone can see it. Everyone hopes for their relationship to be more that just smiles and waves. But Gabe is shy and has issues. Every time he sees Lea he gets tongue-tied and it's so adorable. He is a very likable character. I love him, actually. Though reading a book in first person perspective gives you direct contact with a character's thoughts, it is also great seeing that person as others see him or her. And it is because of this that I knew Gabe to be a very good guy despite how some people think of him as weird. To his friends he is an amazing person. He has issues, yes, and I loved how he chose to deal with them. He doesn't really talk about it but that is his choice. At the same time, he takes action to overcome them instead of wallowing in self pity. That guy amazes me.
The story progresses real slow and could get monotonous (sometimes frustrating) but the writing style makes it interesting. It's a good thing this book is not that long. Overall, this was a nice, sweet read.