New Book Releases this February 2015
*cover image links to Goodreads*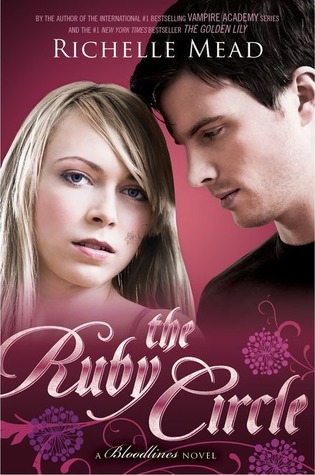 The Ruby Circle
(Bloodlines #6)
by Richelle Mead
Published: February 10, 2015
The Book Depository
_________

The epic conclusion to Richelle Mead's New York Times bestselling Bloodlines series is finally here...

Sydney Sage is an Alchemist, one of a group of humans who dabble in magic and serve to bridge the worlds of humans and vampires. They protect vampire secrets—and human lives.

After their secret romance is exposed, Sydney and Adrian find themselves facing the wrath of both the Alchemists and the Moroi in this electrifying conclusion to Richelle Mead's New York Times bestselling Bloodlines series. When the life of someone they both love is put on the line, Sydney risks everything to hunt down a deadly former nemesis. Meanwhile, Adrian becomes enmeshed in a puzzle that could hold the key to a shocking secret about spirit magic, a secret that could shake the entire Moroi world.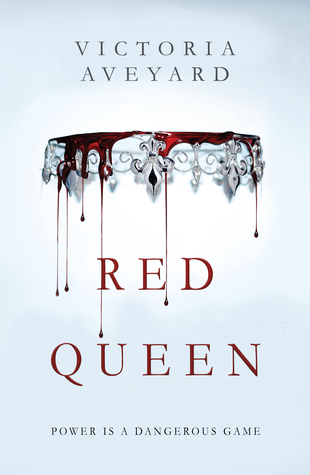 Red Queen
(Red Queen Trilogy #1)
by Victoria Aveyard
Published: February 10, 2015
The Book Depository
_________

The poverty stricken Reds are commoners, living under the rule of the Silvers, elite warriors with god-like powers.

To Mare Barrow, a 17-year-old Red girl from The Stilts, it looks like nothing will ever change.

Mare finds herself working in the Silver Palace, at the centre of
those she hates the most. She quickly discovers that, despite her red blood, she possesses a deadly power of her own. One that threatens to destroy Silver control.

But power is a dangerous game. And in this world divided by blood, who will win?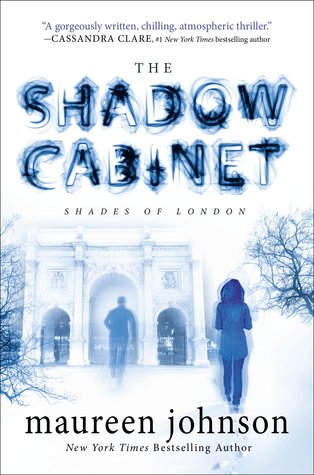 The Shadow Cabinet
(Shades of London #3)
by Maureen Johnson
Published: February 10, 2015
The Book Depository
_________

The thrilling third installment to the Edgar-nominated, bestselling series.

Rory and her friends are reeling from a series of sudden and tragic events. While racked with grief, Rory tries to determine if she acted in time to save a member of the squad. If she did, how do you find a ghost? Also, Rory's classmate Charlotte has been kidnapped by Jane and her nefarious organization. Evidence is uncovered of a forty-year-old cult, ten missing teenagers, and a likely mass murder. Everything indicates that Charlotte's in danger, and it seems that something much bigger and much more terrible is coming.

Time is running out as Rory fights to find her friends and the ghost squad struggles to stop Jane from unleashing her spectral nightmare on the entire city. In the process, they'll discover the existence of an organization that underpins London itself—and Rory will learn that someone she trusts has been keeping a tremendous secret.
Valentine


(On Dublin Street #5.5)
by Samantha Young
Published: February 14, 2015
_________
A special novella with six extremely sexy short stories from the On Dublin Street series so far. It's Valentine's Day and Joss & Braden, Ellie & Adam, Jo & Cam, Olivia & Nate, Hannah & Marco and Shannon & Cole are hotting up the streets of Edinburgh once more…
Read it for
FREE
.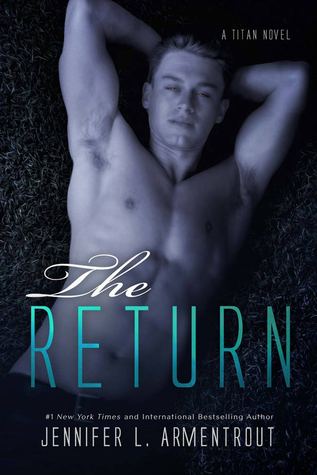 The Return
(Titan #1)
by Jennifer L. Armentrout
Published: February 16, 2015
The Book Depository
_________

The Fates are cackling their bony asses off…

It's been a year since Seth made the deal with the gods that pledged his life to them. And so far, the jobs they've given him have been violent and bloody–which is kind of all right with him. But now Apollo has something else in mind for Seth. He's got to play protector while keeping his hands and fingers off, and for someone who really has a problem with restraint, this new assignment might be the most challenging yet.

Josie has no idea what this crazy hot guy's deal might be, but it's a good bet that his arrival means the new life she started after leaving home is about to be thrown into an Olympian-sized blender turned up to puree. Either Josie is going insane or a nightmare straight out of ancient myth is gunning for her.

But it might be the unlikely attraction simmering between her and the golden-eyed, secret-keeping Seth that may prove to be the most dangerous thing of all.

Because history has once again been flipped to repeat.

Book 1 in the new adult paranormal TITAN series, spin-off to the best selling COVENANT series.
A Stone in the Sea


(Bleeding Stars #1)
by A.L. Jackson
Published: February 23, 2015
________

He wanted nothing at all…

Until he found she had everything to give…

Sunder lead singer and guitarist Sebastian Stone has everything—fans, fame, and fortune. He also has a heart full of bitterness and a reputation for a short-fused temper. But an outward reputation rarely reveals the true man inside. Facing assault charges after trying to protect his younger brother, Sebastian is sent to Savannah, Georgia to lie low until the dust settles in L.A.

Shea Bentley is beautiful, kind, and hiding from the very lifestyle Sebastian has always embraced.

When the mysterious, tattooed stranger begins hanging out at the bar where she works, Shea is quick to recognize he is nothing but trouble, but she's helpless to the way her body lights up every time his intense gray eyes tangle with hers.

They both soon find themselves drowning in a sea of desire and passion that won't let them up for air.

Sebastian knows firsthand secrets never die, and he's not the only one who's hiding them.

Loving someone always comes with a price. But will it be Shea's past that costs them everything?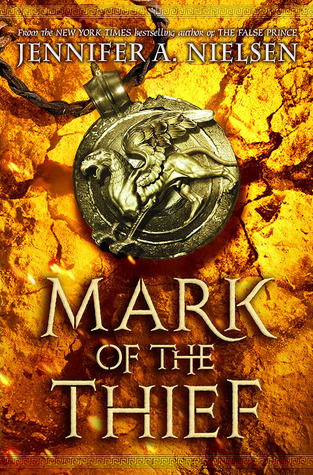 Mark of the Thief
(Mark of the Thief #1)
by Jennifer A. Nielsen
Published: February 24, 2015
The Book Depository
__________

When Nic, a slave in the mines outside of Rome, is forced to enter a sealed cavern containing the lost treasures of Julius Caesar, he finds much more than gold and gemstones: He discovers an ancient bulla, an amulet that belonged to the great Caesar and is filled with a magic once reserved for the Gods -- magic some Romans would kill for.

Now, with the deadly power of the bulla pulsing through his veins, Nic is determined to become free. But instead, he finds himself at the center of a ruthless conspiracy to overthrow the emperor and spark the Praetor War, a battle to destroy Rome from within. Traitors and spies lurk at every turn, each more desperate than the next to use Nic's newfound powers for their own dark purposes.

In a quest to stop the rebellion, save Rome, and secure his own freedom, Nic must harness the magic within himself and defeat the empire's most powerful and savage leaders.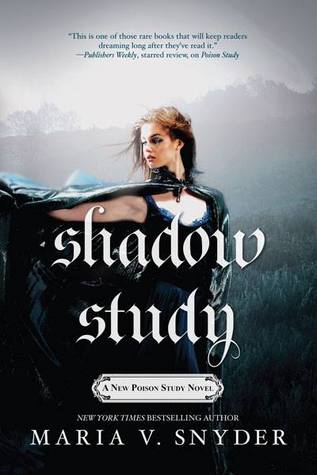 Shadow Study
(Soulfinders #1)
by Maria V. Snyder
Published: February 24, 2015
The Book Depository
_________

New York Times bestselling author Maria V. Snyder wowed readers with Poison Study, the unforgettable story of poison taster Yelena. Now she's back with a new tale of intrigue.

Once, only her own life hung in the balance.

Oddly enough, when Yelena was a poison taster, her life was simpler. But she'd survived to become a vital part of the balance of power between rival countries Ixia and Sitia. Now she uses her magic to keep the peace in both lands and protect her relationship with Valek.

Suddenly, though, they are beset on all sides by those vying for power through politics and intrigue. Valek's job - and his life - are in danger. As Yelena tries to uncover the scope of these plots, she faces a new challenge: her magic is blocked. She must keep that a secret - or her enemies will discover just how vulnerable she really is - while searching for who or what is responsible for neutralizing her powers.

Yes, the days of tasting poisons were much simpler. And certainly not as dangerous,

"Doing full justice to the plot of this original and entertaining epic fantasy is impossible. Suffice it to say that the action is nonstop. The many characters leap to life, particularly Yelena, whose first-person narrative is riveting."
~ RT Book Reviews on Fire Study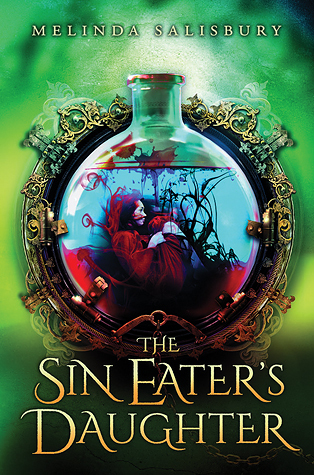 The Sin Eater's Daughter
(The Sin Eater's Daughter #1)
by Melinda Salisbury
Published: February 24, 2015
The Book Depository
__________

Seventeen-year-old Twylla lives in the castle. But although she's engaged to the prince, Twylla isn't exactly a member of the court.

She's the executioner.

As the Goddess embodied, Twylla instantly kills anyone she touches. Each month she's taken to the prison and forced to lay her hands on those accused of treason. No one will ever love a girl with murder in her veins. Even the prince, whose royal blood supposedly makes him immune to Twylla's fatal touch, avoids her company.

But then a new guard arrives, a boy whose easy smile belies his deadly swordsmanship. And unlike the others, he's able to look past Twylla's executioner robes and see the girl, not the Goddess. Yet Twylla's been promised to the prince, and knows what happens to people who cross the queen.

However, a treasonous secret is the least of Twylla's problems. The queen has a plan to destroy her enemies, a plan that requires a stomach-churning, unthinkable sacrifice. Will Twylla do what it takes to protect her kingdom? Or will she abandon her duty in favor of a doomed love?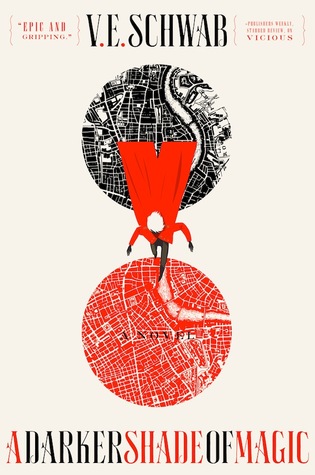 A Darker Shade of Magic
(A Darker Shade of Magic #1)
by V.E. Schwab
Published: February 24, 2015
The Book Depository
________

Kell is one of the last Travelers—rare magicians who choose a parallel universe to visit.

Grey London is dirty, boring, lacks magic, ruled by mad King George. Red London is where life and magic are revered, and the Maresh Dynasty presides over a flourishing empire. White London is ruled by whoever has murdered their way to the throne. People fight to control magic, and the magic fights back, draining the city to its very bones. Once there was Black London - but no one speaks of that now.

Officially, Kell is the Red Traveler, personal ambassador and adopted Prince of Red London, carrying the monthly correspondences between royals of each London. Unofficially, Kell smuggles for those willing to pay for even a glimpse of a world they'll never see. This dangerous hobby sets him up for accidental treason. Fleeing into Grey London, Kell runs afoul of Delilah Bard, a cut-purse with lofty aspirations. She robs him, saves him from a dangerous enemy, then forces him to another world for her 'proper adventure'.

But perilous magic is afoot, and treachery lurks at every turn. To save all of the worlds, Kell and Lila will first need to stay alive — trickier than they hoped.
Unleashed
(Uninvited #2)
by Sophie Jordan
Published: February 24, 2015
The Book Depository
________

Unleashed, the romantic, high-stakes sequel to New York Times bestselling author Sophie Jordan's Uninvited, is perfect for fans of James Patterson's Confessions of a Murder Suspect.

Davy has spent the last few months trying to come to terms with the fact that she tested positive for the kill gene HTS (also known as Homicidal Tendency Syndrome). She swore she would not let it change her, and that her DNA did not define her . . . but then she killed a man.

Now on the run, Davy must decide whether she'll be ruled by the kill gene or if she'll follow her heart and fight for her right to live free. But with her own potential for violence lying right beneath the surface, Davy doesn't even know if she can trust herself.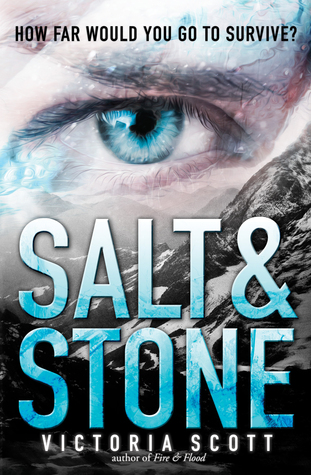 Salt & Stone
(Fire & Flood #2)
by Victoria Scott
Published: February 24, 2015
The Book Depository
_________

What would you do to save someone you love?

In Fire & Flood, Tella Holloway faced a dangerous trek through the jungle and across the desert, all to remain a Contender in the Brimstone Bleed for a chance at obtaining the Cure for her brother. She can't quit--she has to win the race, save Cody, and then fight to make sure the race stops before it can claim any more lives. In the next legs of the race, across the ocean and over mountains, Tella will face frostbite, sharks, avalanche, and twisted new rules in the race.

But what if the danger is deeper than that? How do you know who to trust when everyone's keeping secrets? What do you do when the person you'd relied on most suddenly isn't there for support? How do you weigh one life against another?

The race is coming to an end, and Tella is running out of time, resources, and strength. At the start of the race there were one hundred twenty-two Contenders. As Tella and her remaining friends start the final part of the race, just forty-one are left--and only one can win.