New Book Releases this February 2015
*cover image links to Goodreads*
I'll Meet You There
by Heather Demetrios
Published: February 3, 2015
The Book Depository
__________

If seventeen-year-old Skylar Evans were a typical Creek View girl, her future would involve a double-wide trailer, a baby on her hip, and the graveyard shift at Taco Bell. But after graduation, the only thing standing between straightedge Skylar and art school are three minimum-wage months of summer. Skylar can taste the freedom—that is, until her mother loses her job and everything starts coming apart. Torn between her dreams and the people she loves, Skylar realizes everything she's ever worked for is on the line.

Nineteen-year-old Josh Mitchell had a different ticket out of Creek View: the Marines. But after his leg is blown off in Afghanistan, he returns home, a shell of the cocksure boy he used to be. What brings Skylar and Josh together is working at the Paradise—a quirky motel off California's dusty Highway 99. Despite their differences, their shared isolation turns into an unexpected friendship and soon, something deeper.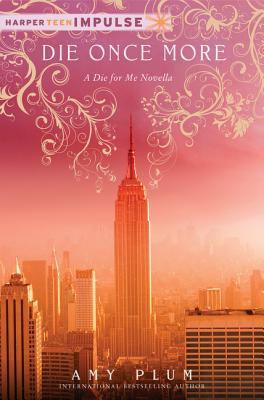 Die Once More
(Revenants #3.5)
by Amy Plum
Published: February 3, 2015
_________

This one-hundred-page novella picks up where the international bestselling Die for Me trilogy ended and follows the eternally irresistible Jules Marchenoir as he leaves Paris behind for a fresh start in New York City.

Jules is a revenant—an undead being whose fate forces him to sacrifice himself over and over again to save human lives. He's spent the last century flirting his way through Paris and, most recently, falling in love with his best friend's girlfriend. Loyalty and heartbreak have led him to choose a new life in NYC.

Separated from his friends and his home, Jules is adrift in this dangerous new world, facing unknown enemies . . . until he meets a revenant named Ava. Though the battle for France has been won, an epic war between good and evil has just begun in the Big Apple, and Ava needs Jules's help to uncover the key to an American victory. Jules finds himself in the same position he crossed an ocean to escape: at risk of losing his immortal existence as well as his heart.
How (Not) to Fall in Love


by Lisa Brown Roberts
Published: February 3, 2015
_________

Seventeen-year-old Darcy Covington never had to worry about money or where her next shopping spree was coming from. Even her dog ate gourmet. Then one day, Darcy's car is repossessed from the parking lot of her elite private school. As her father's business hit the skids, Dad didn't just skip town, he bailed on his family.

Fortunately, Darcy's uncle owns a thrift shop where she can hide out from the world. There's also Lucas, the wickedly hot fix-it guy she can't stop crushing on, even if she's not sure they'll ever get out of the friend zone.

But it's here among the colorful characters of her uncle's world that Darcy begins to see something more in herself...if she has the courage to follow it.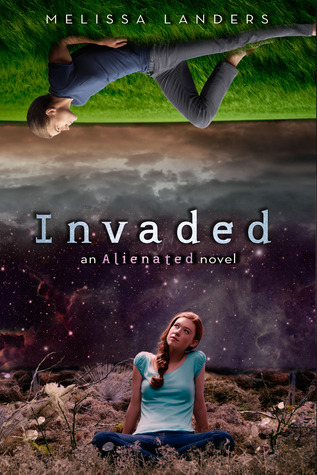 Invaded
(Alienated #2)
by Melissa Landers
Published: February 3, 2015
The Book Depository
__________

The romantic sequel to Alienated takes long-distance relationships to a new level as Cara and Aelyx long for each other from opposite ends of the universe...until a threat to both their worlds reunites them.

Cara always knew life on planet L'eihr would be an adjustment. With Aelyx, her L'eihr boyfriend, back on Earth, working to mend the broken alliance between their two planets, Cara is left to fend for herself at a new school, surrounded by hostile alien clones. Even the weird dorm pet hates her.

Things look up when Cara is appointed as human representative to a panel preparing for a human colony on L'eihr. A society melding their two cultures is a place where Cara and Aelyx could one day make a life together. But with L'eihr leaders balking at granting even the most basic freedoms, Cara begins to wonder if she could ever be happy on this planet, even with Aelyx by her side.

Meanwhile, on Earth, Aelyx, finds himself thrown into a full-scale PR campaign to improve human-L'eihr relations. Humans don't know that their very survival depends on this alliance: only Aelyx's people have the technology to fix the deadly contamination in the global water supply that human governments are hiding. Yet despite their upper hand, the leaders of his world suddenly seem desperate to get humans on their side, and hardly bat an eye at extremists' multiple attempts on Aelyx's life.

The Way clearly needs humans' help . . . but with what? And what will they ask for in return?
Paper or Plastic
by Vivi Barnes
Published: February 3, 2015
The Book Depository
_________

Welcome to SmartMart, where crime pays minimum wage...

Busted. Alexis Dubois just got caught shoplifting a cheap tube of lipstick at the local SmartMart. She doesn't know what's worse—disappointing her overbearing beauty-pageant-obsessed mother for the zillionth time…or her punishment. Because Lex is forced to spend her summer working at the store, where the only things stranger than the staff are the customers.

Now Lex is stuck in the bizarro world of big-box retail. Coupon cutters, jerk customers, and learning exactly what a "Code B" really is (ew). And for added awkwardness, her new supervisor is the totally cute—and adorably geeky—Noah Grayson. Trying to balance her out-of-control mother, her pitching position on the softball team, and her secret crush on the school geek makes for one crazy summer. But ultimately, could the worst job in the world be the best thing that ever happened to her?
Hero
by Samantha Young
Published: February 3, 2015
The Book Depository
_________

The emotional and unforgettable new romance from the New York Times bestselling author of the On Dublin Street series.

Alexa Holland's father was her hero—until her shocking discovery that she and her mother weren't his only family. Ever since, Alexa has worked to turn her life in a different direction and forge her own identity outside of his terrible secrets. But when she meets a man who's as damaged by her father's mistakes as she is, Alexa must help him.

Caine Carraway wants nothing to do with Alexa's efforts at redemption, but it's not so easy to push her away. Determined to make her hate him, he brings her to the edge of her patience and waits for her to walk away. But his actions only draw them together and, despite the odds, they begin an intense and explosive affair.

Only Caine knows he can never be the white knight that Alexa has always longed for. And when they're on the precipice of danger, he finds he'll do anything to protect either one of them from being hurt again…
Volition
by Lily Paradis
Published: February 6, 2015
The Book Depository
__________

You know that feeling in the pit of your stomach that stays with you, then tears you apart slowly at first, and all at once shreds every fiber of your being?

It's because you're contradicting the universe.

Everything lines up so perfectly that you couldn't have imagined it to work out better, but then you have to go and do everything humanly possible to ruin it because you can't stand to have it go right?

That's what I did.

I did it because there's a darkness that surrounds me, and I think I want it there.

My name is Tate McKenna, and my soul is blacker than my heart.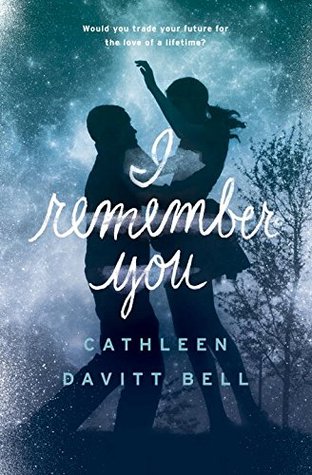 I Remember You
by Cathleen Davitt Bell
Published: February 10, 2015
The Book Depository
_________

For fans of THE FUTURE OF US comes an engrossing story of two teens, whose love for each other is tested by time and fate.

Lucas and Juliet couldn't be more different from each other. But from the moment Lucas sees Juliet, he swears he remembers their first kiss. Their first dance. Their first fight. He even knows what's going to happen between them—not because he can predict the future, but because he claims to have already lived it.

Juliet doesn't know whether to be afraid for herself or for Lucas. As Lucas's memories occur more frequently, they also grow more ominous. All Juliet wants is to keep Lucas safe with her. But how do you hold on to someone you love in the present when they've begun slipping away from you in the future?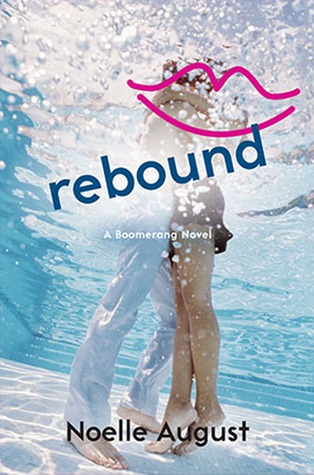 Rebound
(Boomerang #2)
by Noelle August
Published: February 10, 2015
The Book Depository
__________

Hooking up is only the beginning of the fun in this sexy and irresistible second installment of the thrilling New Adult series, Boomerang.

Adam Blackwood has it all. At twenty-two, he's fabulously wealthy, Ryan Gosling-hot and at the top of the heap in the business world. His life is perfect, until a scandal from his past resurfaces and knocks the tech wunderkind down, throwing his company, Boomerang, a hook-up site for millennials, into chaos.

Three years ago, Adam married his high school love—and then lost her in a tragic accident. Now, the heartbreak and guilt he's tried to bury with work and women begins to take over his life.

Alison Quick, the twenty-one-year-old daughter of a business tycoon—and the very ex-girlfriend of Boomerang's former intern, Ethan—has a problem of her own. She's got one chance to prove to her father that she deserves a place in his empire by grabbing control of Boomerang and taking Adam down.

But as Alison moves in on him, armed with a cadre of lawyers and accountants, she discovers there's much more to Adam and Boomerang than meets the eye. Will earning her father's approval come at the price of losing her first real love? It appears so, unless Adam can forgive her for wrecking his life and trying to steal his livelihood. But Alison hopes that old adage is right. Maybe love can conquer all.
Played


(Altered #3.5)
by Jennifer Rush
Published: February 10, 2015
__________

Leaving Nick and Elizabeth behind at the end of Reborn, genetically-altered Chloe has only one thing on her mind: revenge. She's determined to take the Branch down, starting with the organization's merciless leader Tom Riley.

Tracking Riley to Washington, D.C., Chloe seems to be closing in on her goal with each passing hour. But just because the Branch made her virtually indestructible doesn't mean she's immune to her emotions. And when a shadow from her past appears in the unlikeliest of places, Chloe is forced to reexamine her allegiances once and for all.

Another sexy and suspenseful novella in the Altered saga by Jennifer Rush.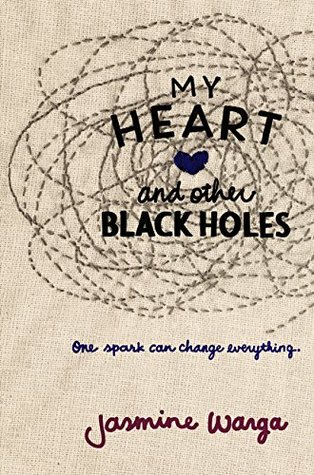 My Heart and Other Black Holes
by Jasmine Warga
Published: February 10, 2015
The Book Depository
__________

Sixteen-year-old physics nerd Aysel is obsessed with plotting her own death. With a mother who can barely look at her without wincing, classmates who whisper behind her back, and a father whose violent crime rocked her small town, Aysel is ready to turn her potential energy into nothingness.

There's only one problem: she's not sure she has the courage to do it alone. But once she discovers a website with a section called Suicide Partners, Aysel's convinced she's found her solution: a teen boy with the username FrozenRobot (aka Roman) who's haunted by a family tragedy is looking for a partner.

Even though Aysel and Roman have nothing in common, they slowly start to fill in each other's broken lives. But as their suicide pact becomes more concrete, Aysel begins to question whether she really wants to go through with it. Ultimately, she must choose between wanting to die or trying to convince Roman to live so they can discover the potential of their energy together. Except that Roman may not be so easy to convince.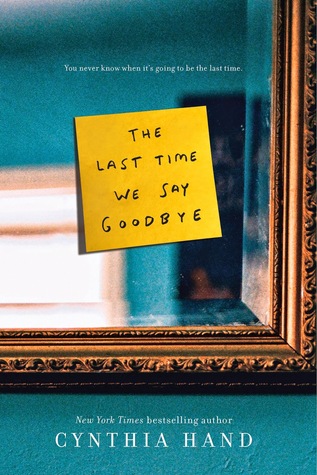 The Last Time We Say Goodbye
by Cynthia Hand
Published: February 10, 2015
The Book Depository
________

There's death all around us.
We just don't pay attention.
Until we do.

The last time Lex was happy, it was before. When she had a family that was whole. A boyfriend she loved. Friends who didn't look at her like she might break down at any moment.

Now she's just the girl whose brother killed himself. And it feels like that's all she'll ever be.

As Lex starts to put her life back together, she tries to block out what happened the night Tyler died. But there's a secret she hasn't told anyone-a text Tyler sent, that could have changed everything.

Lex's brother is gone. But Lex is about to discover that a ghost doesn't have to be real to keep you from moving on.

From New York Times bestselling author Cynthia Hand, The Last Time We Say Goodbye is a gorgeous and heart-wrenching story of love, loss, and letting go.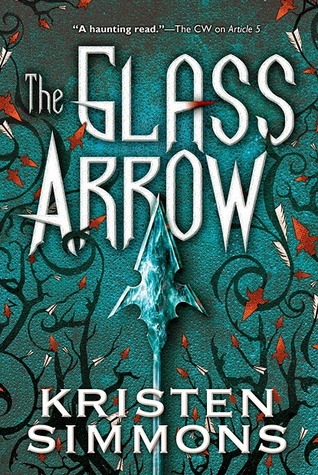 The Glass Arrow
by Kristen Simmons
Published: February 10, 2015
The Book Depository
__________

The Handmaid's Tale meets Blood Red Road in Glass Arrow, the story of Aya, who lives with a small group of women on the run from the men who hunt them, men who want to auction off breeding rights to the highest bidder.

In a world where females are scarce and are hunted, then bought and sold at market for their breeding rights, 15-year old Aya has learned how to hide. With a ragtag bunch of other women and girls, she has successfully avoided capture and eked out a nomadic but free existence in the mountains. But when Aya's luck runs out and she's caught by a group of businessmen on a hunting expedition, fighting to survive takes on a whole new meaning.