I am blogging.
I AM BLOGGIIIING!!!!
Forgive me. I am
that
excited. Up until yesterday I was seriously dreading the fact that we were still going back to school and doing projects when semestral break had supposedly started the previous week. Finals wasn't that hard compared to others I've taken before. Of course, there was the hardest exam it couldn't compare to all my other exams combined, there was also one you could take wasted and pass, there's another that was just
'Meh. Whatever'
, one was cancelled and one I was exempted to take. Projects, though... Argh! Right after we finished our last exam, we all went out to celebrate because
eff yeah we survived another semester
! But the day after that was back to school stuff. I've been reading a few books since exams ended but with projects in the way I didn't have all my time focused on that. And also, I've been sleeping a lot. Gotta compensate, ya know ;) I mean, we only get more or less - definitely less - than two weeks of break including holidays and enrollment which could take forever just so we can have the most convenient schedule for our classes (and that's next week already!). So it was kind of a downer thinking that I wouldn't be able to read ten books, write plenty of reviews and blog, after all.
Yesterday we finally finished our project and I am so freakin' happy. I'll take whatever time I can get before school starts and read these books in my TBR Pile.
I was hoping I could read 10 physical books but my other goal was to also pick up all those big books I have. Both goals doesn't really go along with each other so I settled for five including the big books ;)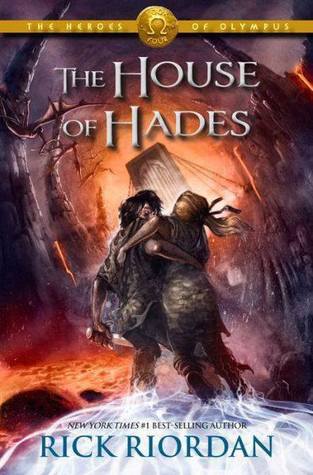 (The Heroes of Olympus #4)
Bought this on release day. Opened it immediately after I got home so I can start reading. Read the epigraph. And closed the book. I didn't think I'd be able to take it because I was oh-so-sure that it ends with another cliffhanger. But Blood of Olympus is here so I'm ready!
The Hero of Ages
(Mistborn #3)
by Brandon Sanderson
Goodreads
I read
Poison Study by Maria V. Snyder
last week. It's a fantasy book and the main character, Yelena, kick's ass that I couldn't help but think of Vin who is freaking awesome especially with kicking ass. I was so excited to start
The Hero of Ages
by that time that I went to my bookshelf so I can read it stat before my reading mood shifts to another, only to find out that it wasn't there. Which means my sister lent it to someone else. I almost cried.
Days of Blood & Starlight
(Daughter of Smoke & Bone #2)
by Laini Taylor
Goodreads
Another 500-and-some pages of awesome ass-kicking fantasy read. Also, GORGEOUS cover. 'Nuff said.
The Coldest Girl in Coldtown
(The Coldest Girl in Coldtown)
by Holly Black
Goodreads
If you've been to my
Goodreads
account, you've probably seen this book in my
Currently Reading
shelf forever. I started it on October 28,
2013
. Almost one year ago. I think this was part of my sembreak TBR last year. I remembered thinking it was an okay read but so far not really grabbing my attention so I set it aside. For a reaaally long time.
In the Shadow of Blackbirds
by Cat Winters
Goodreads
I've wanted to read this book so bad but for some reason it makes me anxious to start reading it. It looks and sounds so awesome and my Goodreads friend who have read this gave it 5 or 4 stars. I've also heard great things about it from my favorite reviewer. Also, I'm crazy about the physical features of this book, inside and out. It's g-o-r-g-e-o-u-s.
See what I'm talking about?
That's all for now. Hope I don't get too obsessed with my current read to be too lazy to make another blog post soon. Happy reading!