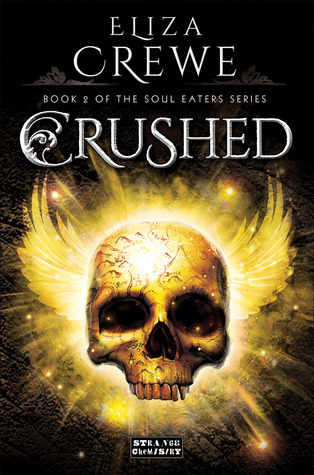 Crushed
(Soul Eaters #2)
by Eliza Crewe
Published: August 25, 2014
Meda Melange has officially hung up her monstrous mantle and planted her feet firmly on the holy and righteous path of a Crusader-in-training. Or, at least, she's willing to give it a shot. It helps that the Crusaders are the only thing standing between her and the demon hordes who want her dead.
The problem is, the only people less convinced than Meda of her new-found role as Good Girl are the very Crusaders she's trying to join. So when a devilishly handsome half-demon boy offers escape, how's a girl supposed to say "no?"
After all, everyone knows a good girl's greatest weakness is a bad boy.
THIS SERIES IS AWESOME. I mean, sure, most of the time it annoys me when something I absolutely love becomes too mainstream that it's all everyone talks about and I just want everyone to shut the hell up. But methinks this series is too underrated. Have you not read this line?
Meet Meda. She eats people.
Are you not at least curious what this is about? I sure as hell was. And then I was like,
"WOAH. That was freakin' good."
And I was so eager to read more of it that when I received an advanced copy of the sequel it felt like I was given a thousand dollars instead. Let me tell you something about the first book,
Cracked
. It's about this girl, Meda, who is a half demon. She rips people to shred so she can eat their soul. So basically, she's the bad guy. But then she runs into more bad guys who almost kills her when the good guys arrive and happen to save her. Now it's up to Meda to work her way into being one of the good guys so as not to be doused with holy water. Because it hurts *lol*. Anyway, don't just sit there and wait for me to tell you the whole story. Read the book.
Crushed
, while also very good, made me frustrated a lot of times. It's because of those freakin' Crusaders. They don't accept Meda to be one of them but they're no better than those demons. The best thing about Meda is she knows who she is and it more than pains me when I think about all the things these hypocritical tools who thinks they're doing things for the greater good are doing to her. So I don't blame her for all the decisions she's made. And really, a devilishly handsome half-demon boy offers her escape? HECK YES!!!!! I've been waiting for this moment since I read
Cracked
.
This book was a lot of fun. I enjoy being in Meda's head. It's not all snark and evil thoughts and hot guys. You'd be surprised to realize a lot of things despite the book written in a villain's point of view although honestly, Meda may be a demon but she is NOT the bad guy.
It took me a hundred swipes of my screen to convince myself that the book was over. The last sentence was right at the very bottom of the page. No extra space to at least warn me that the epilogue was over. It had gone like this:
*swipe*
Huh?
*swipe*
What?
*swipe*
What the hell is wrong? Is this acting up again?
*shakes Kindle*
*swipe swipe*
Shit.
*swipe*
No.
*swipe*
No. No. NO.
*swipe x 93*
Me, devastated.
But I'm so glad to hear that there will be a third book. There should be. There's no way Meda's story ends there. No. Way. And also one devilishly handsome half-demon boy's story. Maybe? Please? Just.. PLEASE.
*A review copy was provided by the publisher and NetGalley.