New Book Releases this August 2014
*cover image links to Goodreads*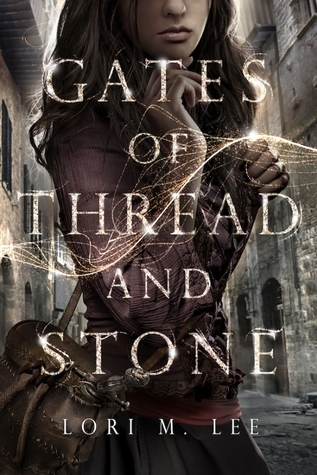 Gates of Thread and Stone
(Gates of Thread and Stone #1)
by Lori M. Lee
Published: August 5, 2014
The Book Depository
Amazon
__________

In the Labyrinth, we had a saying: keep silent, keep still, keep safe.

In a city of walls and secrets, where only one man is supposed to possess magic, seventeen-year-old Kai struggles to keep hidden her own secret—she can manipulate the threads of time. When Kai was eight, she was found by Reev on the riverbank, and her "brother" has taken care of her ever since. Kai doesn't know where her ability comes from—or where she came from. All that matters is that she and Reev stay together, and maybe one day move out of the freight container they call home, away from the metal walls of the Labyrinth. Kai's only friend is Avan, the shopkeeper's son with the scandalous reputation that both frightens and intrigues her.

Then Reev disappears. When keeping silent and safe means losing him forever, Kai vows to do whatever it takes to find him. She will leave the only home she's ever known and risk getting caught up in a revolution centuries in the making. But to save Reev, Kai must unravel the threads of her past and face shocking truths about her brother, her friendship with Avan, and her unique power.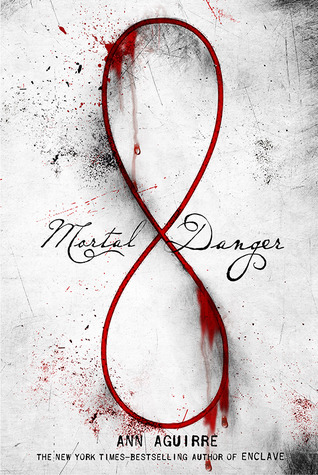 Mortal Danger
(Immortal Game #1)
by Ann Aguirre
Published: August 5, 2014
The Book Depository
Amazon
__________

Revenge is a dish best served cold.

Edie Kramer has a score to settle with the beautiful people at Blackbriar Academy. Their cruelty drove her to the brink of despair, and four months ago, she couldn't imagine being strong enough to face her senior year. But thanks to a Faustian compact with the enigmatic Kian, she has the power to make the bullies pay. She's not supposed to think about Kian once the deal is done, but devastating pain burns behind his unearthly beauty, and he's impossible to forget.

In one short summer, her entire life changes, and she sweeps through Blackbriar, prepped to take the beautiful people down from the inside. A whisper here, a look there, and suddenly... bad things are happening. It's a heady rush, seeing her tormentors get what they deserve, but things that seem too good to be true usually are, and soon, the pranks and payback turns from delicious to deadly. Edie is alone in a world teeming with secrets and fiends lurking in the shadows. In this murky morass of devil's bargains, she isn't sure who—or what--she can trust. Not even her own mind...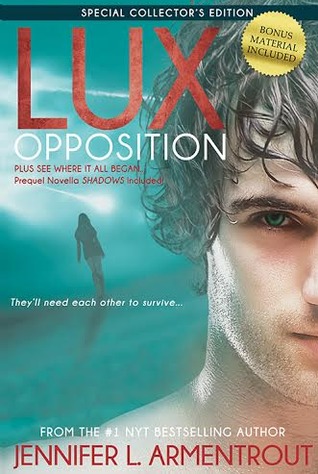 Opposition
(Lux #5)
by Jennifer L. Armentrout
Published: August 5, 2014
The Book Depository
Amazon
__________

Katy knows the world changed the night the Luxen came.

She can't believe Daemon welcomed his race or stood by as his kind threatened to obliterate every last human and hybrid on Earth. But the lines between good and bad have blurred, and love has become an emotion that could destroy her—could destroy them all.

Daemon will do anything to save those he loves, even if it means betrayal.

They must team with an unlikely enemy if there is any chance of surviving the invasion. But when it quickly becomes impossible to tell friend from foe, and the world is crumbling around them, they may lose everything— even what they cherish most—to ensure the survival of their friends…and mankind.

War has come to Earth. And no matter the outcome, the future will never be the same for those left standing.
Ugly Love
by Colleen Hoover
Published: August 5, 2014
The Book Depository
Amazon
__________

When Tate Collins meets airline pilot Miles Archer, she knows it isn't love at first sight. They wouldn't even go so far as to consider themselves friends. The only thing Tate and Miles have in common is an undeniable mutual attraction. Once their desires are out in the open, they realize they have the perfect set-up. He doesn't want love, she doesn't have time for love, so that just leaves the sex. Their arrangement could be surprisingly seamless, as long as Tate can stick to the only two rules Miles has for her.

Never ask about the past.
Don't expect a future.

They think they can handle it, but realize almost immediately they can't handle it at all.

Hearts get infiltrated.
Promises get broken.
Rules get shattered.
Love gets ugly.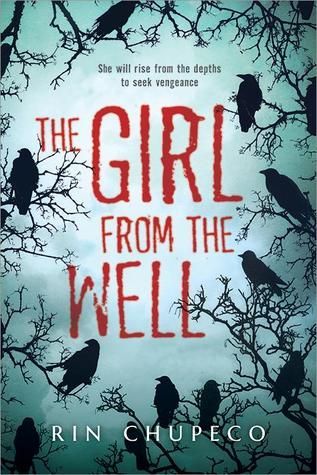 The Girl from the Well
by Rin Chupeco
Published: August 5, 2014
The Book Depository
Amazon
__________

You may think me biased, being murdered myself. But my state of being has nothing to do with the curiosity toward my own species, if we can be called such. We do not go gentle, as your poet encourages, into that good night.

A dead girl walks the streets.

She hunts murderers. Child killers, much like the man who threw her body down a well three hundred years ago.

And when a strange boy bearing stranger tattoos moves into the neighborhood so, she discovers, does something else. And soon both will be drawn into the world of eerie doll rituals and dark Shinto exorcisms that will take them from American suburbia to the remote valleys and shrines of Aomori, Japan.

Because the boy has a terrifying secret - one that would just kill to get out.

The Girl from the Well is A YA Horror novel pitched as "Dexter" meets "The Grudge", based on a well-loved Japanese ghost story.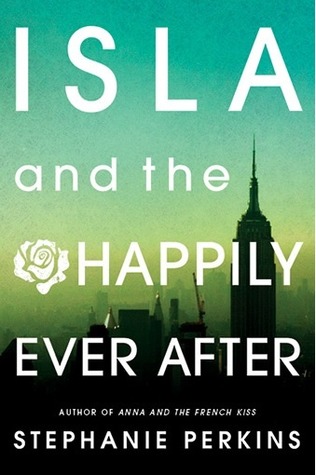 Isla and the Happily Ever After
(Anna and the French Kiss #3)
by Stephanie Perkins
Published: August 14, 2014
The Book Depository
Amazon
__________

From the glittering streets of Manhattan to the moonlit rooftops of Paris, falling in love is easy for hopeless dreamer Isla and introspective artist Josh. But as they begin their senior year in France, Isla and Josh are quickly forced to confront the heartbreaking reality that happily-ever-afters aren't always forever.

Their romantic journey is skillfully intertwined with those of beloved couples Anna and Étienne and Lola and Cricket, whose paths are destined to collide in a sweeping finale certain to please fans old and new.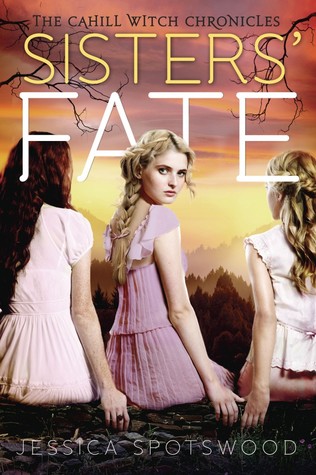 Sisters' Fate
(The Cahill Witch Chronicles #3)
by Jessica Spotswood
Published: August 14, 2014
The Book Depository
Amazon
__________

A fever ravages New London, but with the Brotherhood sending suspected witches straight to the gallows, the Sisters are powerless against the disease. They can't help without revealing their powers—as Cate learns when a potent display of magic turns her into the most wanted witch in all of New England.

To make matters worse, Cate has been erased from the memory of her beloved Finn. While she's torn between protecting him from further attacks and encouraging him to fall for her all over again, she's certain she can never forgive Maura's betrayal. And now that Tess's visions have taken a deadly turn, the prophecy that one Cahill sister will murder another looms ever closer to its fulfillment.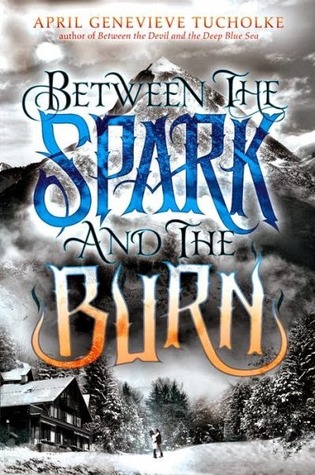 Between the Spark and the Burn
(Between #2)
by April Genevieve Tucholke
Published: August 14, 2014
The Book Depository
Amazon
__________

The conclusion to Between the Devil and The Deep Blue Sea, this gothic thriller romance with shades of Stephen King and Daphne du Maurier is a must-read for fans of Beautiful Creatures and Anna Dressed in Blood.

Freddie once told me that the Devil created all the fear in the world.
But then, the Devil once told me that it's easier to forgive someone for scaring you than for making you cry.
The problem with River West Redding was that he'd done both to me.

The crooked-smiling liar River West Redding, who drove into Violet's life one summer day and shook her world to pieces, is gone. Violet and Neely, River's other brother, are left to worry—until they catch a two a.m. radio program about strange events in a distant mountain town. They take off in search of River but are always a step behind, finding instead frenzied towns, witch hunts, and a wind-whipped island with the thrum of something strange and dangerous just under the surface. It isn't long before Violet begins to wonder if Neely, the one Redding brother she thought trustworthy, has been hiding a secret of his own . . .(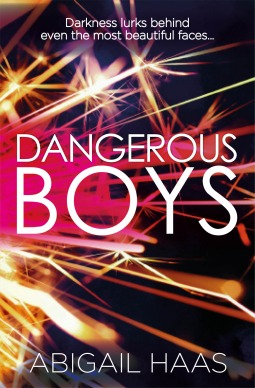 Dangerous Boys
by Abigail Haas, Abby McDonald
Published: August 14, 2014
The Book Depository
Amazon
____________

Three teens venture into the abandoned Monroe estate one night; hours later, only two emerge from the burning wreckage. Chloe drags one Reznick brother to safety, unconscious and bleeding; the other is left to burn, dead in the fire. But which brother survives? And is his death a tragic accident? Desperate self-defense? Or murder?
Chloe is the only one with the answers. As the fire rages, and police and parents demand the truth, she struggles to piece together the story of how they got there-a story of jealousy, twisted passion, and the darkness that lurks behind even the most beautiful of faces…
Don't Let Go
(PERSEFoNE #3)
by Michelle Gagnon
Published: August 26, 2014
The Book Depository
Amazon
___________

In this pulse-pounding final installment of the Don't Turn Around trilogy, which in a starred review Kirkus called "The Girl with the Dragon Tattoo for teens," Noa and Peter race across the country in their search to destroy Project Persephone before time runs out.

After a devastating loss, Noa Torson is out of options. On the run with the three remaining teens of Persephone's Army, she is up against immeasurable odds. The group is outnumbered, outsmarted, and outrun. But they are not giving up.

When Noa and Peter realize they can't run anymore, and that Noa's health is failing, they know they must go back to where this began. But when they come face-to-face with the man who started it all, the question becomes, can they win?

This riveting final book in the Don't Turn Around trilogy ratchets up the action as Noa and Peter confront the evil that has chased them and won't let them go.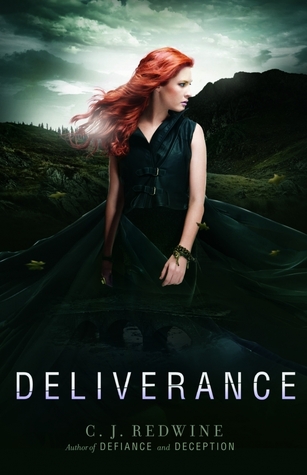 Deliverance
(Defiance #3)
by C.J. Redwine
Published: August 26, 2014
The Book Depository
Amazon
__________

Everything hangs in the balance, and nothing is certain: Rachel has been kidnapped by enemy forces and is being taken to Rowansmark while Logan, imprisoned and awaiting trial, is unable to leave Lankenshire. Separated from each other and their Baalboden comrades, each must find a way to achieve what they desperately want: to rid their world once and for all of the Commander and the tech that controls the deadly Cursed One.

Fighting through her pain and embracing the warrior she's become, Rachel will do whatever it takes to escape her enemies' clutches and join Logan in his fight. But when she learns a secret that changes everything, she realizes that escaping Ian and his tracker friends is no longer an option if she wants to save the people she loves. Instead, she'll have to destroy Rowansmark from the inside out—if she can survive the journey through the Wasteland.

Logan needs allies if he wants to thwart Rowansmark's power grab and rescue Rachel. But securing allies will mean betraying his beliefs and enlisting the help of the man he hates more than anyone: Commander Jason Chase. Driven by his fierce love for Rachel and his determination to make their world safe, Logan may be just the weapon the city-states need to defeat the Cursed One.

But as Rowansmark bears down and uneasy alliances are tested, will Rachel and Logan's love for each other be enough to surmount the unbelievable odds against them?
Sanctum
(Asylum #2)
by Madeleine Roux
Published: August 26, 2014
The Book Depository
Amazon
__________

In this haunting, fast-paced sequel to the New York Times bestselling photo-illustrated novel Asylum, three teens must unlock some long-buried secrets from the past before the past comes back to get them first. Featuring found photographs, many from real vintage carnivals, Sanctum is a mind-bending reading experience that blurs the lines between past and present, genius and insanity, perfect for fans of the smash hit Miss Peregrine's Home for Peculiar Children.

Dan, Abby, and Jordan remain traumatized by the summer they shared in the Brookline asylum. Much as they'd love to move on, someone is determined to keep the terror alive, sending the teens photos of an old-timey carnival, with no note and no name. Forsaking their plan never to go back, the teens return to New Hampshire College under the guise of a weekend for prospective students, and there they realize that the carnival from the photos is not only real, it's here on campus, apparently for the first time in many years.

Sneaking away from sample classes and college parties, Dan and his friends lead a tour of their own—one through the abandoned houses and hidden places of the surrounding town. Camford is hiding a terrible past, and the influence of the asylum runs deeper than Dan ever imagined.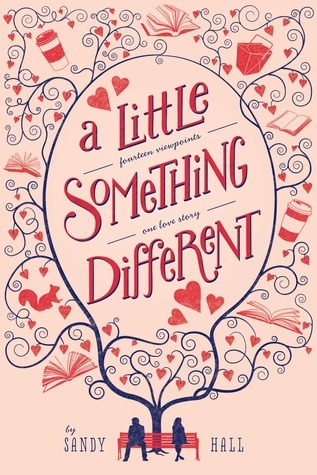 A Little Something Different
by Sandy Hall
Published: August 26, 2014
The Book Depository
Amazon
__________

The creative writing teacher, the delivery guy, the local Starbucks baristas, his best friend, her roommate, and the squirrel in the park all have one thing in common—they believe that Gabe and Lea should get together. Lea and Gabe are in the same creative writing class. They get the same pop culture references, order the same Chinese food, and hang out in the same places. Unfortunately, Lea is reserved, Gabe has issues, and despite their initial mutual crush, it looks like they are never going to work things out. But somehow even when nothing is going on, something is happening between them, and everyone can see it. Their creative writing teacher pushes them together. The baristas at Starbucks watch their relationship like a TV show. Their bus driver tells his wife about them. The waitress at the diner automatically seats them together. Even the squirrel who lives on the college green believes in their relationship.

Surely Gabe and Lea will figure out that they are meant to be together...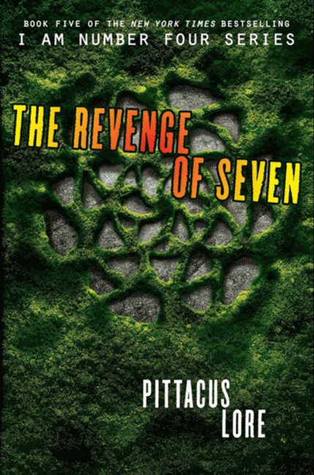 The Revenge of Seven
(Lorien Legacies #5)
by Pittacus Lore
Published: August 26, 2014
The Book Depository
Amazon
_________

The worst was supposed to be over. We were reunited after a decade apart. We were discovering the truth of our past. We were training and getting stronger every day. We were even happy...

We never imagined the Mogodorians could turn one of our own against us. We were fools for trusting Five. And now Eight is lost forever. I would do anything to bring him back, but that's impossible. Instead, I will do whatever it takes to destroy every last one of them.

I've spent my entire life hiding from them, and they've stolen everything away from me. But that stops now. We're going to take the battle to them. We have a new ally who knows their weaknesses. And I finally have the power to fight back.

They caught Number One in Malaysia.

Number Two in England.

Number Three in Kenya.

And Number Eight in Florida.

They killed them all.

I am Number Seven.

I will make them pay.