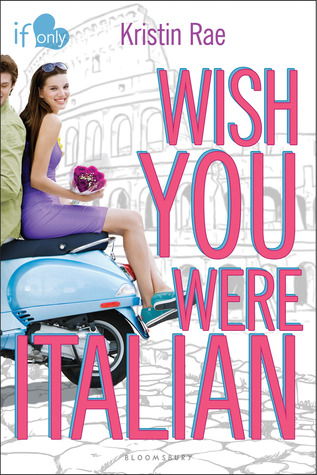 Wish You Were Italian
(If Only . . . #2)
by Kristin Rae
Published: May 6, 2014
Buy from Amazon
Pippa has always wanted to go to Italy … but not by herself. And certainly not to sit in art school the entire summer learning about dead guys' paintings. When she steps off the plane in Rome, she realizes that traveling solo gives her the freedom to do whatever she wants. So it's arrivederci, boring art program and ciao, hot Italian guys!
Charming, daring, and romantic, Bruno is just the Italian Pippa's looking for—except she keeps running into cute American archeology student Darren everywhere she goes. Pippa may be determined to fall in love with an Italian guy … but the electricity she feels with Darren says her heart might have other plans. Can Pippa figure out her feelings before her parents discover she left the program and—even worse—she loses her chance at love?
This is such an adorable book! It made me smile from beginning to end. When I saw the cover of the book, saw the title, read the summary, I was thinking cute, romantic story in a foreign country - yes. Lots of cheesy lines and maybe some drama with Italian guys... no.
What really surprised me since I started this book was that it has really great writing style. I don't mean that to sound offensive but I've had my fair share of contemporary books with okay-ish writing where I only get by with at least a good story. Add that to the fact that I've never read anything by the author before so I can't help but be pleased.
Expect an adventure from Wish You Were Italian. It is one of the really great things in it! The main character, Pippa, is going to Italy – alone – for her summer and I knew the moment the journal her bestfriend gave her made an appearance that it's going to be fun fun fun! I've never been to Italy but I fell in love with it because of this book. The book I read before this also has a scene in Rome where they're eating gelato and now this? My mouth is watering. It really doesn't delve much into a long explanation of the history of each tourist spot but I got enough to picture a beautiful image in my head. And I like the characters because they aren't a complicated bunch. I also like the romance. It isn't forced or insta-love-y. Very cute, actually. This book also has family dramas and is originally the reason why summer in Italy happened. I'm glad those were resolved little by little.
I like the way it ended especially with the sudden turn of events. I almost thought Darren's last words were some kind of i'll-just-throw-this-fact-in-here-to-make-it-a-little-more-cool sort of thing but I went back to all the stuff I know about him and thought it certifiable. I guess the only downside is that there are parts in the book that are cursory and flat.
Oh, and the author mentioned Switchfoot in her acknowledgement. Awesoooome ;)
PS I am so going to Italy someday and eat lots of gelato – before dinner. And pizza! And I'm also going to bring a really cool camera.