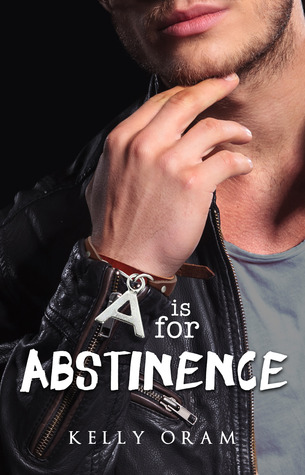 A is for Abstinence
(V is for Virgin #2)
by Kelly Oram
Published: May 12, 2014
Buy from Amazon
Six-time Grammy Award-winning musician Kyle Hamilton has it all—money, fame, talent, good looks, and a job he loves. His only regret in life: walking away from a certain notorious virgin because he was too prideful, stubborn, and even afraid to give her the only thing she asked of him—his abstinence.
Four years and a broken heart later, Kyle realizes that sex isn't everything, and he suddenly can't stop thinking about the girl that got away. Virgin Val Jensen got under his skin like no one else ever has. He wasn't ready for her then, but things are different now. He's grown up, he's learned a few things, and he's finally figured out exactly what he wants, or, rather, who he wants.
Kyle Hamilton wants a do-over, and this time he's willing to do—or not do—whatever it takes.
"That's right! I'm a VIRGIN! I've never had sex! And you know what? I'm proud of it! Make fun all you want. It doesn't matter. I'm waiting until I'm married, and no one is going to make me feel bad about it."
Remember this? The cafeteria scene that later became a YouTube sensation? Ever wondered what happened after the end of
V is for Virgin
? Well, here is
A is for Abstinence
for your answer.
So, February, Kelly Oram hosted a Battle of the Book Boyfriends event (she makes great book boyfriends, I'm telling you) on her blog. Bloggers got to choose who their favorite Kelly Oram boy is and wrote a blog post saying what makes him the perfect Valentine's Day date. I chose Ryan Miller (Jamie Baker series) because he is, hands down, amazing. That would be obvious if you've seen the first two days of the contest. Ryan has so many votes it felt like there was no chance any other contestants could catch up.
It wasn't until a few days later that I realized something. I had a change of heart. Ryan is my guy, but Kelly promised that she will write a novella of the book boyfriend who wins. Ryan already has a lot of novellas. Actually, every other contemporary book by Kelly has novellas except
V is for Virgin
. And a novella is much needed especially with the way it ended. I already voted for Ryan but I did not un-vote him. What I did, however, was try to convince anyone who will listen - my sister, parents, cousins, aunts, grandma - to vote for Kyle Hamilton. He won, obviously. And I about died with excitement. But imagine the look on my face when Kelly said the novella would be a full-length novel. IN KYLE HAMILTON POV.
And, as expected, I couldn't tear myself away from this book. I abandoned blogging time for this. I ate my meals in front of my computer so I can read. No one can blame me, really. It's been, what? Four years? Four freakin' years since Kyle and Val saw and talked to each other. Now they are given the chance to reconnect and find out if everything was really worth all the wait. Kyle is now a superstar inlove with the spotlight. Val is a Stanford graduate with a double major, who is soon going to take her master's program, the woman behind numerous foundations and possibly the future and first female president. The two couldn't be more different than they were before. But that's not all. Their relationship gets more complicated than that.
I enjoyed being in Kyle's head. I love seeing Val in his point of view. She is this confident, strong and independent woman who Kyle thinks he doesn't deserve and even if he denies that whatever kind of connection they had four years ago was no more than just an infatuation, it's obvious to everyone but them that there is more to it. Kyle is used to a completely different lifestyle than Val, with groupies and paparazzi following his every move. He loves the fame. Valerie, however, is the opposite. She has a life of her own and she's not the type who will just sit for hours doing nothing but just be in Kyle's presence and that made them doubt that any relationship between them will work.
How they settle these differences is the major theme in this book. I am very happy with how it all turned out. I could call Kelly Oram a hero just for writing this sequel. She gave us more of the juicy details that lead to how most of us imagined it should be after Connie Parker's show. Amiright?
*Thanks to the author for the review copy.