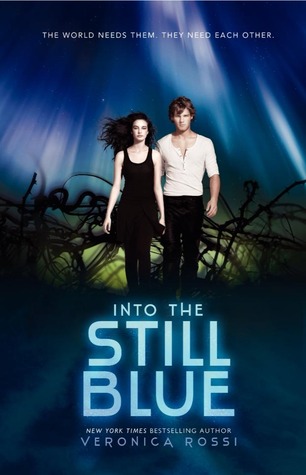 Into the Still Blue
(Under the Never Sky #3)
by Veronica Rossi
Published: January 28, 2014
Buy from Amazon
National Book Store
The race to the Still Blue has reached a stalemate. Aria and Perry are determined to find this last safe haven from the Aether storms before Sable and Hess do--and they are just as determined to stay together.
Within the confines of a cave they're using as a makeshift refuge, they struggle to reconcile their people, Dwellers and Outsiders, who are united only in their hatred of their desperate situation. Meanwhile, time is running out to rescue Cinder, who was abducted by Hess and Sable for his unique abilities. Then Roar arrives in a grief-stricken fury, endangering all with his need for revenge.
Out of options, Perry and Aria assemble an unlikely team for an impossible rescue mission. Cinder isn't just the key to unlocking the Still Blue and their only hope for survival--he's also their friend. And in a dying world, the bonds between people are what matter most.
In this final book in her earth-shattering Under the Never Sky trilogy, Veronica Rossi raises the stakes to their absolute limit and brings her epic love story to an unforgettable close.
Aw, man. As soon as I finished
Through the Ever Night
I let myself flail and emote for five seconds before diving for my bookshelf and pick up
Into the Still Blue
.
*It was so good but at page eighty I had to reluctantly put it down to go to work. I was on a reading binge around that time that it almost worried me because instead of going back to the book when I got back home that night like I should have done; I don't know what got into me BUT I STARTED COVERING MY BOOKS ONE BY freakin' ONE!!! I successfully covered fifteen until I got tired and went to bed without reading. The same happened the following night but at exactly midnight.. guys, I finally picked up Into the Still Blue. Yay for me! What previously happened wasn't leading me into a slump! But get this, I wasn't even five pages in.. and the power went out. I heard thunder and the only source of light was coming from the occasional lightning. Talk about creepy but me? I'm just cursing in the dark about life not being fair. I went to sleep without even remembering I had an emergency light ;(
Into the Still Blue
is kick-ass, fast paced and just so good. It made me laugh, swoon, smile, worry, stress, cry, clutch my chest a few times to make sure there is no gaping hole.. At this point in the series not much questions are left to ponder that will make readers worry how the answers will all fit in the book. It's all looking forward to finding a home where everyone is not in danger of Aether storms and of course, the complications that will arise along the way.
I loved reading Perry and Aria's perspectives, as I did on the two previous books, since it gives the viewpoint of each character on different missions - Perry as Blood Lord and Aria in search of the Still Blue's location. I love them most when they are together and I think they are a perfect pair. What I love most in the whole series are the bonds developed. Aria and Roar's for one is something to treasure, the Dwellers and Outsiders.. and Perry and Cinder's most of all is heartbreaking. Poor boy finally found a home only for it to be gone. I admire the way the author made those relationships that's so genuine you wouldn't find it hard to be emotionally connected to the book.
Through the Ever Night
is my favorite of the three but
Into the Still Blue
was a great read. As most endings went,
Into the Still Blue
was heartbreaking and tear-inducing with tough choices and goodbyes. But also a satisfying one where new bonds were formed and the chance to start anew was found.