New Releases this May 2014
*cover image links to Goodreads*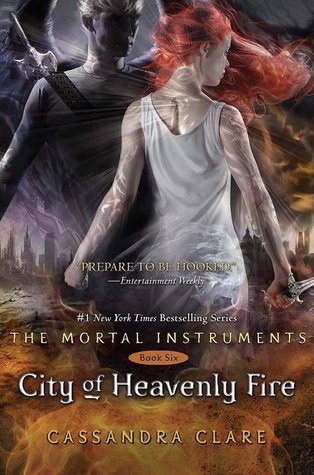 City of Heavenly Fire
(The Mortal Instruments #6)
by Cassandra Clare
Published: May 27, 2014
The Book Depository
Amazon
____________

ΕRCHOMAI, SEBASTIAN HAD SAID.

I am coming.

Darkness returns to the Shadowhunter world. As their society falls apart around them, Clary, Jace, Simon and their friends must band together to fight the greatest evil the Nephilim have ever faced: Clary's own brother. Nothing in the world can defeat him — must they journey to another world to find the chance?
The Probability of Violet & Luke
(The Coincidence #4)
by Jessica Sorensen
Published: May 15, 2014
Amazon
___________

Luke Price and Violet Hayes haven't seen each other in a couple of months, not since they discovered Luke's mother's connection to Violet's parent's murders. But when Luke gets into some gambling trouble with the wrong people, destiny decides to throw the two of them together and they head out to Vegas to try and settle Luke's debt.

As Violet spends time with Luke, she becomes torn on whether she should be with him. She definitely can't deny that her life is better when she's with Luke and she starts to wonder if going back to Preston was a mistake.

Things seem to be going well as Violet opens up more to Luke, but then she gets a call from the detective, not only to give an update on Mira Price and the case, but to give information about some threatening texts she's been getting. The information is not only shocking, but makes Violet question what kind of people her parents really where and whether she'll be able to trust anyone ever again.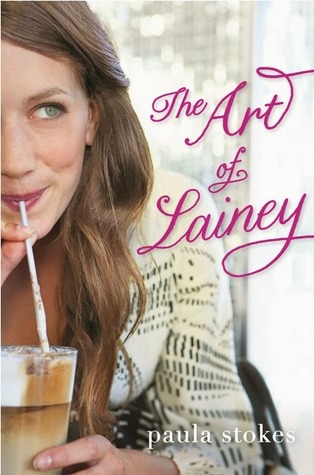 The Art of Lainey
by Paula Stokes
Published: May 20, 2014
The Book Depository
Amazon
____________

Soccer star Lainey Mitchell is gearing up to spend an epic summer with her amazing boyfriend, Jason, when he suddenly breaks up with her—no reasons, no warning, and in public no less! Lainey is more than crushed, but with help from her friend Bianca, she resolves to do whatever it takes to get Jason back.

And that's when the girls stumble across a copy of The Art of War. With just one glance, they're sure they can use the book to lure Jason back into Lainey's arms. So Lainey channels her inner warlord, recruiting spies to gather intel and persuading her coworker Micah to pose as her new boyfriend to make Jason jealous. After a few "dates", it looks like her plan is going to work! But now her relationship with Micah is starting to feel like more than just a game.

What's a girl to do when what she wants is totally different from what she needs? How do you figure out the person you're meant to be with if you're still figuring out the person you're meant to be?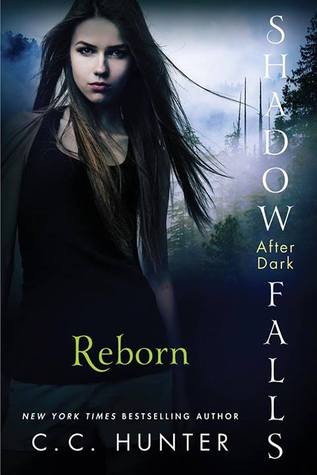 Reborn
(Shadow Falls: After Dark #1)
by C.C. Hunter
Published: May 20, 2014
The Book Depository
Amazon
___________

Return to the beloved world of Shadow Falls, a camp that teaches supernatural teens to harness their powers—and where a vampire named Della will discover who she's meant to be.

For Della Tsang, Shadow Falls isn't just a camp: it's home. As a vampire who's never fit in with her human family, it's the one place she can truly be herself. But when a mysterious new guy arrives at camp, Della's whole world is thrown into turmoil. Chase is a vampire with secrets, who knows more than he's telling. But the more time she spends with him, the more she begins to trust this attractive stranger—and feel drawn to him. But romance is the last thing she wants—as she keeps telling Steve, the hunky shapeshifter who won't stop trying to win her heart. And if Della isn't careful, he just might succeed.  When a new case puts everyone she cares about in danger, Della's determined to do everything she can to save them . . . even if it means teaming up with Steve and Chase, who leave her more confused than ever. With their lives on the line, will Della and her friends survive—with their hearts intact?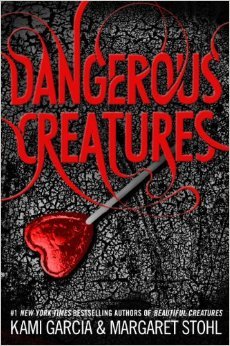 Dangerous Creatures
(Dangerous Creatures #1)
by Kami Garcia, Margaret Stohl
Published: May 20, 2014
The Book Depository
Amazon
____________

A new series returns to the world of Beautiful Creatures. Some loves are cursed...others are dangerous.

Ridley Duchannes will be the first to tell you that she's a bad girl. She's Dark. She's a Siren. You can never trust her, or even yourself when she's around. Lucky for her, Wesley "Link" Lincoln can never seem to remember that; quarter Incubus or not, his heart is Mortal when it comes to Ridley. When Link heads to New York City to start a music career, Ridley goes along for the ride-and she has her own reasons. As if leaving small-town Gatlin for the big city, trying to form a band, and surviving life with a partially reformed Siren isn't hard enough already, Link soon learns he has a price on his head that no Caster or Mortal can ever pay.

Kami Garcia and Margaret Stohl, the #1 New York Times bestselling coauthors of Beautiful Creatures, are back and casting another magical spell. Their signature mixture of mystery, suspense, and romance, along with a dash of fun and danger, will pull fans in and leave them begging for more.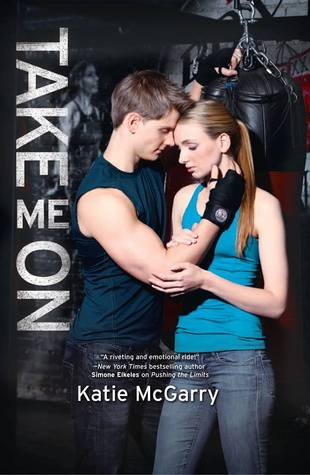 Take Me On
(Pushing the Limits #4)
by Katie McGarry
Published: May 27, 2014
The Book Depository
Amazon
_____________

Acclaimed author Katie McGarry returns with the knockout new story of two high school seniors who are about to learn what winning really means.

Champion kickboxer Haley swore she'd never set foot in the ring again after one tragic night. But then the guy she can't stop thinking about accepts a mixed martial arts fight in her honor. Suddenly, Haley has to train West Young. All attitude, West is everything Haley promised herself she'd stay away from. Yet he won't last five seconds in the ring without her help.

West is keeping a big secret from Haley. About who he really is. But helping her-fighting for her-is a shot at redemption. Especially since it's his fault his family is falling apart. He can't change the past, but maybe he can change Haley's future.

Hayley and West have agreed to keep their relationship strictly in the ring. But as an unexpected bond forms between them and attraction mocks their best intentions, they'll face their darkest fears and discover love is worth fighting for.
The Girl with the Windup Heart
(Steampunk Chronicles #4)
by Kady Cross
Published: May 27, 2014
The Book Depository
Amazon
____________

In 1897 London, a final showdown is about to begin.

London's underworld is no place for a young woman, even one who is strong, smart and part-automaton like Mila. But when master criminal Jack Dandy inadvertently breaks her heart, she takes off, determined to find an independent life, one entirely her own. Her search takes her to the spangled shadows of the West End's most dazzling circus.

Meanwhile, taken captive in the Aether, Griffin King is trapped in an inescapable prison, and at the mercy of his archenemy, The Machinist. If he breaks under the hellish torment, The Machinist will claim his powers and control of the Aether itself, and no one in either world will be safe-especially not Finley Jayne and her misfit band of friends.

Finley plunges headlong into the Aether the only way she knows how, by temporarily dying. But she cannot parry The Machinist's maneuvers for long. To defeat him for good, Griffin will have to confront his greatest fear and finally come face-to-face with the destructive power he wields.
Divided
(Dualed #2)
by Elsie Chapman
Published: May 27, 2014
The Book Depository
Amazon
_____________

The hunter becomes the hunted. . . .

West Grayer is done killing. She defeated her Alternate, a twin raised by another family, and proved she's worthy of a future. She's ready to move on with her life.

The Board has other plans. They want her to kill one last time, and offer her a deal worth killing for. But when West recognizes her target as a ghost from her past, she realizes she's in over her head. The Board is lying, and West will have to uncover the truth of the past to secure her future.

How far will the Board go to keep their secrets safe? And how far will West go to save those she loves? With nonstop action and surprising twists, Elsie Chapman's intoxicating sequel to Dualed reveals everything.
Meridian
(Arclight #2)
by Josin L. McQuein
Published: May 27, 2014
The Book Depository
Amazon
____________

Marina thought that she had solved all of the Arclight's mysteries. She had found her own history—that she was one of the Fade, that she never should have been human. She knows that the Fade who surround the Arclight don't want to be the humans' enemies at all. She knows that the leader of those inside the Arc, Honoria Whit, never told the whole truth. But there is so much more that Marina is just discovering. There are more survivors out there. Only Marina—and her friends, all of whom have connections to the Fade they'd never known about—can lead her people to them. But there are also darker dangers, things that even the Fade fear. And Marina slowly realizes she may never have been "cured," after all. The sequel to Arclight, Meridian is an intense, action-packed page-turner about the lines we draw between right and wrong, light and dark . . . and the way nothing is ever that black and white.
Just One Night
(Just One Day #2.5)
by Gayle Forman
Published: May 29, 2014
Amazon
____________

After spending one life-changing day in Paris with laid-back Dutch actor Willem De Ruiter, sheltered American good girl Allyson "Lulu" Healey discovered her new lover had disappeared without a trace. Just One Day followed Allyson's quest to reunite with Willem; Just One Year chronicled the pair's year apart from Willem's perspective. Now, back together at last, this delectable e-novella reveals the couple's final chapter.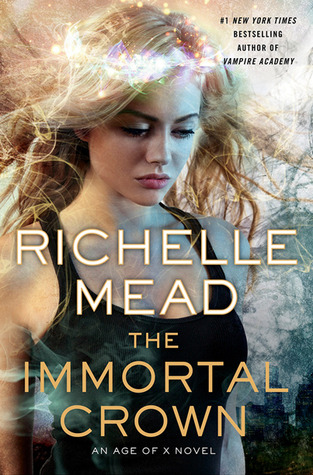 The Immortal Crown
(Age of X #2)
by Richelle Mead
Published: May 29, 2014
The Book Depository
Amazon
__________

The #1 New York Times bestselling author of the Vampire Academy and Bloodline series returns with the second installment in her acclaimed Age of X series.

Gameboard of the Gods introduced religious investigator Justin March and Mae Koskinen, the beautiful supersoldier assigned to protect him. Together they have been charged with investigating reports of the supernatural and the return of the gods, both inside the Republic of United North America and out. With this highly classified knowledge comes a shocking revelation: Not only are the gods vying for human control, but the elect—special humans marked by the divine—are turning against one another in bloody fashion.

Their mission takes a new twist when they are assigned to a diplomatic delegation headed by Lucian Darling, Justin's old friend and rival, going into Arcadia, the RUNA's dangerous neighboring country. Here, in a society where women are commodities and religion is intertwined with government, Justin discovers powerful forces at work, even as he struggles to come to terms with his own reluctantly acquired deity.

Meanwhile, Mae—grudgingly posing as Justin's concubine—has a secret mission of her own: finding the illegitimate niece her family smuggled away years ago. But with Justin and Mae resisting the resurgence of the gods in Arcadia, a reporter's connection with someone close to Justin back home threatens to expose their mission—and with it the divine forces the government is determined to keep secret.